Posted Sat Nov 28th by Monty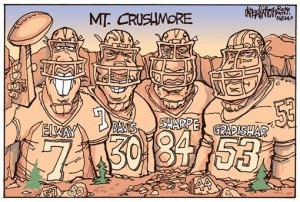 Retired Denver Broncos running back Terrell Davis and tight end Shannon Sharpe have been named among the 25 semifinalists for the 2010 class of the Pro Football Hall of Fame. [Official site] Along with running back Floyd Little, who is one of two senior member candidates, the Broncos have three representatives for the Hall of Fame voters' consideration.
This list of 25 (plus two) will be whittled down to 15 (plus two) by January 7th, with final voting to take place on February 6th. The committee votes between four and seven finalists into the Hall each year.
I understand the voters having their reasons against Little and Davis (even though I feel very strongly both belong), but Sharpe's denial into the Hall last year was ridiculous. The committee needs to do these players justice.
Davis, Sharpe Named HoF Semifinalists [DenverBroncos.com]
Terrell Davis belongs in the Hall of Fame [BroncoTalk]
Floyd Little belongs in the Hall of Fame [BroncoTalk]