Posted Sat Nov 28th by Monty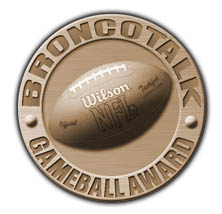 When the Broncos win, we give out Game Balls. It goes without saying, but we will anyway — it feels damn good to hand out some game balls again. Broncos 26, Giants 6 — alright gentlemen, who ya got?!

Brandon Marshall
I feel like a Brandon Marshall fanboy doing this, but seriously. Not one but TWO stellar one handed grabs? Kyle Orton jokingly told The Beast between drives that he was making him look bad by making those sensational catches, but really. That kind of catch is just not what we come to expect from Marshall. We expect tough catches inside and hard yards after the catch, not Jerry Rice jump up specials. Marshall came to play, and once again he put up a performance that says that despite his attitude, he deserves to be paid. – E. Halsey Miles

Brian Dawkins
Brian Dawkins is a maniac, plain and simple. Weapon-X was all over the field making tackles, forcing fumbles, and motivating players. Time after time, play after play, Dawkins was the heart and soul of the Denver Broncos defense. Despite his age Dawkins showed versatility by playing back in coverage, helping with run support, and provide pressure on the blitz. This Thanksgiving B-Dawk gives Denver fans a lot to be thankful for. – Mr. East

Team
I know this is corny, but I want to give my game ball to the whole team. This was the first game that I feel we played as a complete and well-rounded team. Credit goes to all the players, and especially the coaches. Thanks guys for a wonderful Thanksgiving day gift! – Jonathan Douglas

Matt Prater
The guy was bombing his kicks all over the field Thursday and had about as perfect a game as a kicker can have. He sent five of his seven kickoffs to the end zone for touchbacks, and he was four for four on field goals, including a 47-yarder. As Jason Elam struggles in Atlanta, the Broncos appear to have a bright future in September's AFC Special Teams Player of the Month. – Kyle

Mitch Berger
Did someone order a Love-Berger? Well done. Much love for the old man, putting the curse of Kern to rest, and leading the charge of a visibly improved special teams. If he and Pray(t)er keep booting the long ball with the accuracy arrow down the middle, the Broncos will be in good shape going into the home stretch. Punt return coverage needs some work, but who's complaining, I'm filled with mashed potatoes and making multiple trips to the bathroom all day. Happy Bloated Friday! – J. Kenneth K
Other Game Balls: Elvis Dumervil, for his two-sack performance and clutch forced fumble. Mike Nolan, for getting more aggressive in his playcalling (at times… there were still a few third and longs that sent a three-man rush, but who am I to argue with six-point results?). Kyle Orton. That one interception was a poor toss, but he had a very solid outing Thursday night. He escaped pressure and made plays more than once. He's looked very good his past two starts.
Who'd we miss? Your Game Balls in the comments.