Posted Fri Nov 20th by Monty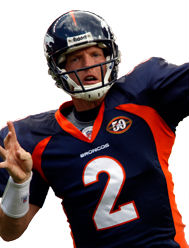 While it's hard to take Josh McDaniels' claims that, if he feels up to it, QB Kyle Orton will start on Sunday against San Diego despite missing a week of practice seriously, the coach continues to insist this is the case.
The New York Times' Fifth Down Blog wonders aloud what type of message this sends Chris Simms.
The Josh McDaniels dossier is still being written, so it's hard to tell how the Broncos will react after scoring only 34 points in the past three weeks and losing their edge on defense. McDaniels must show he can lead his team through its first rash of injuries. Kyle Orton has not been ruled out for Sunday despite his bad ankle, showing that the coach has little faith in the shell-shocked backup Chris Simms.
It's an interesting point. We think Simms will certainly play better this week than he did under fire last week, but does McDaniels feel the same? Is McDaniels showing a lack of faith in his backup by dragging Orton's name along, or is he reaffirming Orton as the starter, who was coming under fire before his first half heroics at Washington? Or, is McDaniels simple playing injury report Patriots games? What do you think?