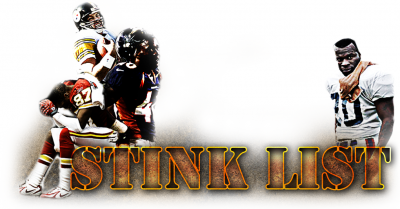 My downward spiral has begun.
(until we regain strength through victory this week against the Redskins, which I will be attending in the flesh, and the Chargers lose to a "backs against the wall" Eagles team, then all will be well again)
First, I must apologize to my BT Staff brethren: I'm sorry guys.
I went off on a manically infused tirade Monday night in our back and forth staff e-mails, I said some things I didn't mean, or said some things I really meant, but shouldn't have said. Either way, my bad, but I was pissed guys!
I was mad as hell.
Plus, sometimes East should be called out for his homerism, I mean truly, friends should help friends with self-recognition. You're welcome Easty.
That hellacious anger has lasted me through this morning, although, it has morphed into different forms of coping.
mainly-Depression/Insecurity/Laziness/Insanity
I continue to seethe with hatred towards the despicable performance put forth by our Denver Broncos Monday night. Even now as I re-watch the travesty through the modern day black magic known as "DVR", I wish to transport myself back in time, 3 days, into the television to strangle Mike Tirico as he boldly exclaims "The best match-up of week 9!".
If he only knew.
Hindsight's a bitch.
We all watch our footballs games differently. We all cope with loses differently. We all diagnose our team differently.
How I watched
Monday night I was to meet up with an old acquaintance I hadn't seen in a years, the reason I use acquaintance, and not friend, is because she is a Steelers fan. I inform her we will be going to a bar I know that's close to our meet up spot,
Jolene: It's not a Broncos bar is it?
Me: Naw.
upon arrival a voice over the loud speakers announces that we are mere moments away from watching the Broncos beat the Steelers on MNF. This would be my only victory of the night. Lame.
Infact, the only excitement that came all night, besides Ayers fumble return for 6, was when the quesadillas were delivered to my table. With six minutes remaining in the 4th quarter, I sneak to the bar, close my $70 tab of grief, and sulk into the night, outcome already determined in my mind.
Call me a bad fan, call me a baby, call me a drunk. Call me what you will.
I just can't stand to watch a team that has given me so much hope, implode.
Now, there's small scale implosions and then large scale implosions, both of which we were privy to last year.
This year we have seen two small scale implosions, and I still believe that the large scale variety is far far far off in the distance. Too small to be seen by the human eye…yet visible to any bionic being who cares enough to look. Like my "DVR", who just re-presented the Tyrone Carter pick6 for my viewing displeasure. Damn Ref.
How I coped
Let's retrace the steps of my 4 day slide into darkness.
Monday Night:
Trick a blonde Steelers fan into going to a Broncos bar.
Drink too much, and in that, spend too much money. Gluttony.
Take verbal shots at fellow BT staffers through e-mail (this makes me feel like a junior high student waiting for 30 minutes on dial-up internet, just so I can break up with my girlfriend through e-mail, I have done this, We then dated again 3 years later).
Tuesday Morning/Afternoon:
My day off- I sleep in until 3pm. This is embarrassing and disgusts me to admit. To make things worse, even at 3pm, I still have a horrible hangover. Pathetic.
Remainder of Tuesday-Thursday:
Watch season 1, episodes 1-13 of Man v. Food, interspersed with work, eating and sleeping. I guess watching someone else gorge themselves on food is better than doing it myself(although I do make many trips to the freezer with a spoonful of peanut butter that I dip into a carton of vanilla ice cream with this span of time). I am convinced that I could complete 50% of the food challenges that host Adam Richman completes. Of all ways to deal with a Broncos loss, why this? I completely baffle myself sometimes.
Different strokes for different folks.
How I diagnose
The same BT staff that allowed me to take my anger out on them Monday night, also helped with a pre-Stink List list in Tuesdays Studs and Duds post. Highlighted for stinking was Mitch Berger, Knowshon & the running game, and the offensive line. One thing that clearly stands out by looking back on previous SL's, is that the kicking game and offensive line, both have plagued the progression of the Broncos this season. Until we truly can control field position, and until the leaks in our line are fixed, we will not know the extent of what the offense is capable of.
McDaniels had finally seen enough of Brett Kern, so there was a move.
McDaniels has finally seen enough of Ben Hamilton, so now there's a move.
Let's hope the move at G pans out better than the move at P has. The Berger is simply not getting it done and Special Teams specialists will have to be addressed in the offseason.
This coming weekend vs. Washington
It's very easy to look at this game as an easy win for Denver, it's also very easy to look at this game as a trap game for Denver, with San Diego looming in the distant future. Here's the thing, we haven't lost to bad teams. We've beaten bad teams, and good teams, and lost to great teams. I see this trend continuing at Fed Ex field, that's not to say that we should take the Redskins for granted, it's just to say, we are a better football team, all the way through, up and down. We need to win ballgames the way we've won ballgames so far this season. That means pressuring the QB, running the ball, and making smart accurate passes to our spread receivers.
A lot of chatter this week has been surrounding the lack of deep ball passes put up by our offense, this game should be a testing ground for what we can get away with. Remember, Washington has a top 10 pass defense, they're not pushovers. McDaniels needs to go into Washington and take care of business, along with using this game as preparation for the type of offensive evolution that will have to take place in order to beat the surging Chargers next week. It's time to kick it into high gear, enough holding back Broncos. Don't make me watch Man v. Food season 2.
How you doin' Family? How's this weekend feel for ya? How's last weekend feel for ya? How do you deal with a couple of bad losses? Let me know. Be good.