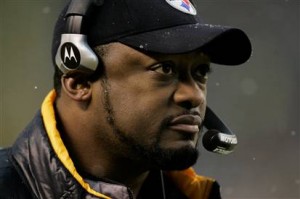 A series of events struck me as odd during  Monday night's game.  An eyebrow raiser, not blatant, but it just didn't sit right.  Coming back to the event in question, does raise just that, questions.
Lets rewind, the situation I speak of was during Pittsburgh's last drive with 6:30 left in the 4th quarter.  Yeah, that one.  Where the Bronco defense allowed Rashard Mendenhall and Mewelde Moore to run roughshod over them for 72 yards on the ground eating the clock like a giant gold and black monster.  The Steelers reach 1st and goal at Denver's 3.  Mendenhall gets the call for a dive play up the middle and is stripped by Mario Haggan on the way down.  The officials say the runner was down.  The play is challenged and upheld.  I thought the ball was coming out before he was down, but it was probably too close to overturn by replay and really could've went either way.  Teams regroup and Mendenhall gets the call once again to take it up the middle and is held to a 1 yard gain by Kenny Peterson.
At this point Denver uses its last timeout with 1:27 left in the game.  The Steelers are up by 11 points with no way for Denver to stop the clock after the upcoming play is snapped.  What are your thoughts if you're head coaching a team in this situation?  Something seem amiss?  What happens next?  I know what happens, you know what happens, we all saw it.  Mike Tomlin's offense calls a swing pass into the right flat for Hines Ward.  He makes the catch, does a half turn, and pulls one hell of an athletic play to hurdle Champ Bailey diving for the wrapup tackle.  He clears the corner, and does a little jaunt over the goal line.
One has to question whether or not this was a good call.  Was it smart, it hardly seems so.  It would require Denver a touchdown, two point conversion, and a field goal to pull even in the game.  It's third down, you run a dive play, QB sneak, or even take a knee.  That burns another 40 seconds off the game clock.  If you run the ball, maybe you score, probably not with a stacked goal line defense.  But you would leave the Broncos with roughly 30 seconds and 99 yards of field to get two scores.
Why did Tomlin call something as risky as a pass into the flat.  Worst case scenario for Pittsburgh?  Bailey sniffs out the play, jumps the flat and takes it for a pick 6 with roughly a minute left.  2 point conversion, try and execute an onside kick, make a 20-30 yard play and kick a field goal to send it in to overtime.  I'm not sure why they took a gamble there.  Is there some kind of vendetta Mike Tomlin has against Denver?  I'm not aware of it and I like to think of myself as a good student when it comes to Bronco history.  This isn't the BCS, you don't have to put up ridiculous points to prove your place to the computers.  The more I think about it, this maneuver just came off as a little classless.  Now I like Mike Tomlin, always have since he received the nod to take over for Cowher, but this one still baffles me.  This doesn't even come close to Bill Belichick running up the score on the Dolphins and the Joe Gibbs Redskins.  Billy got his when the Dolphins unleashed that Wildcat beat down on the Patriots last season.
But it still begs the question as to why?  Review the press conference, the play calling wasn't even brought up.  Maybe he just wanted to cap off that very strong drive, if so, clever call.  A call that came off as rubbing it in the face of the Broncos organization and fans.