Posted Wed Oct 21st by Monty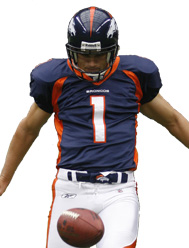 Denver Broncos punter Brett Kern didn't have a good Monday night. The San Diego Chargers' Darren Sproles answered Eddie Royal's heroics with a 77-yard punt return touchdown of his own, and the Broncos' second-year punter only pinned one of three other punts behind the 20 (two touchbacks).
As a result, the Broncos worked out veteran P Mitch Berger Wednesday. The Denver Post notes:
Broncos coach Josh McDaniels called Kern over on the sideline and briefly talked to him after the touchdown return. Kern is currently 28th in the league in net average at 34.5.
As our bold-happy friends at the Colorado Sports Desk point out, Berger is a former Colorado Buffalo who played in the NFL for 15 seasons, most recently for the Pittsburgh Steelers (13 games in 2008, 41.3 avg.). Kern is averaging 46.1 yards per punt.
This isn't the first time the Broncos have looked at other punters this season, and field position is an emphasized part of Josh McDaniels' gameplan. We'll keep you posted.
Broncos take a look at Berger [Denver Post]
Broncos working out former CU punter [Colorado Sports Desk]