Posted Tue Oct 20th by Monty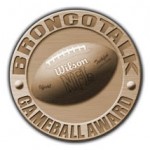 Broncos 34 – Chargers 23. This is the sweetest victory Broncos fans have had in a long time — at least since the 2005 playoffs. Lately, the BT Staffers have been beating me to the punch, dishing out the game balls and calling dibs on players before I elicit their response. I love it. It's good to be a Broncos fan. Alright Team BT, who ya got?!

Elvis Dumervil. Much akin to Eddie Royal in this game, we do not come away with a W if Elvis Dumervil is not in the lineup. Everytime we were able to get pressure using a 4 or 5 man rush, it was Doom's ability to win the edge consistently that disrupted Rivers on his blindside. Not only was he able to pile on the sacks, coming up with a huge turnover in the middle of the game which turned the tide in Denver's favor, but his relentless pass rush through the 2nd half was the stake in the heart of San Diego's offense. – Josh Temple





O-line. Seeing our defense swarm Rivers magnifies how great our guys are. Running game looked good, but the pass protection was amazing. Clady did allow sack #2 in his career, but only because Kyle held the ball too long. Complete domination by our front 5 makes it easy to believe in this offense. – J. Kenneth K.

Eddie Royal hands down. Without fresh Eddie tearing it up the Broncos would have surely been in a huge pickle. Royal has made a special Monday night moment that will last forever. Eddie has always been a decent return man but he hasn't cashed in on runs like these yet (with the exception of the Miami game last year). If Eddie can be consistent with these type of returns then who needs an offense? – Mr. East

Yeah, he gave up the second sack in his professional career in tonight's game, but Orton got happy feet and walked into the sack. Not much Clady could've done there. And the rest of the night, he shut Shawne Merriman down. With all the time Orton had to make throws, it's surprising we didn't have 59 points rather than 34, because he had enough time to pop back an ice cold beer before lazily hefting the ball into the air. Sure, Cromartie played a lot better than I expected tonight, but even Champ Bailey eventually will lose his man in coverage and not everybody can be covered. – E. Halsey Miles

It seems every week Josh McDaniels is able to use one of his weapons in a mismatch he sees against opposing defenses. Scheffler caught six passes for over a hundred yards with a score in one of his best efforts as a pro this Monday night against the Chargers. Scheffler is making the most of his opportunities and could be poised for his best season as a pro to date and is poised for a large pay day somewhere down the road. – Christopher D. Hart

D.J. Williams. Brian Dawkins has become the outspoken cheerleader and inspiration for the defense, so I don't know how many people have really noticed that D.J. Williams has quietly been playing great football all season. It's Williams that has Mike Nolan's voice in his ear as the plays are called and it's Williams that leads the D huddles. He is often directing traffic before the play and last night his name got mentioned a few times late in the game when he scored his second sack and forced fumble of the year. He currently leads the team in tackles and it's time we game the 'man behind the man' a game ball. – Jonathan Douglas

Andre Goodman. An interesting development has been taking place of late — Champ Bailey is being targeted. It's true Bailey's not getting any younger, but he's only 31. His clutch plays continue to show he hasn't lost a step, so why the increased focus his way? Could Andre Goodman be part of the reason? Every time the quarterback targets Champ Bailey is a compliment to Goodman, and last night he was on fire. In fact, Goodman has been playing very well for us all season. I don't know how they tally "passes defensed" — does the defender need to get a hand on the ball? – but Goodman denied Vincent Jackson a deep bomb with textbook coverage. His final mark says 0 passes defensed, but let me tell you about another stat — a second quarter sack, the first of Goodman's career. That sack forced a Chargers punt — one which Eddie Royal returned 71 yards for a touchdown. Kudos to Goodman on the career milestone, the big play, and continued success across one of the greatest to every play the position. – Kyle