Posted Fri Sep 25th by Monty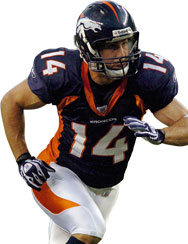 Knowshon Moreno and Brandon Stokley were no-shows for Friday's practice at Dove Valley, Frank Schwab of the Colorado Springs Gazette reports. Stokley has been back-and-forth with a thigh injury all week, while Moreno's absence comes as quite a surprise.
Moreno's absence was wholly unexpected – he had not appeared on the injury report this week. Stokley missed practice Wednesday and was limited with a thigh injury Thursday. If he had a setback to his thigh injury this late in the week, his chances of playing Sunday will take a hit.
Schwab also notes that starting left guard Ben Hamilton was back at practice, a good sign heading into the Broncos' upcoming match with the Raiders, where DL Richard Seymour has been terrorizing LG's through the first two weeks of the season.
Getting Hamilton back is huge – not a Russ Hochstein fan, but I really thought Stokley would pull through by now. In the Shanahan era, missing a Friday practice was as good as missing a game Sunday. We'll see if that's the case with McDaniels.
Moreno, Stokley not at practice [Colorado Springs Gazette]
Denver Broncos at Oakland Raiders Injury Report [BroncoTalk]