Posted Mon Sep 14th by Monty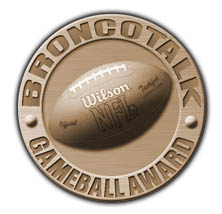 When the Broncos win, we give out game balls! When they lose, we slouch into corners and weep our pitiful lives away…
Broncos 12 – Bengals 7. We will always take a Week One win, no matter how we get it. Alright fellas, time to give out game balls!

Brandon Stokley – Is there anyone else to pick? Stokley, if you heard him dissect the play he was using his head the whole way. – Josh Temple
Was it luck? Yes, yes it was. But what's that old saying about luck? "Luck is what happens when preparation meets opportunity." Stokley talked about being in place just in case the ball came to him, or in preparation for a block downfield if Marshall comes down with it. His heads up goal line trot that ate up more time was the icing on the cake. – Kyle

Alphonso Smith – Looked good in coverage for a rookie and came up with some nice tackles. Expect this trend to continue as he grows over his NFL Career. This kid will be a star. – Christopher D. Hart
I really like the rookie. Wonder why no one gave up a first round next season to jump forward to get this guy. – Ian Henson
Mario Haggan – This W is a "W!" but it's not "W.". Our defense was the main reason we were able to stay in this game. Haggen set the tone early with his high energy-physical play. It's easy to see why he was named captain. – J. Kenneth K.
Brian Dawkins – Are you kidding me? This guy was EVERYWHERE. He led the team in tackles, repeatedly making the stop on an island. He was physical, versatile, and terrorized the Bengals offense. And did you SEE this picture?! Holy sheet! BDawk upside-down in the house! -Kyle

Mike Nolan – My game ball goes to Nolan. I know he's not a player, but he took an incredibly bad defense last year and reworked it into a defense that consistently surprised me. They were shaky in the first quarter but made up for their lapses. But the important thing was they played strong throughout the entire game. The only touchdown drive came late, after Nolan stopped blitzing, and most of the defense was gassed because the offense couldn't stay on the field. I have to give a lot of props to Coach Nolan for accomplishing a defensive win when the offense was playing Football Follies. – E. Halsey Miles
Daniel Graham – I forced myself to pick a defensive & offensive player, otherwise I would give this one to Alphonso Smith, too. Graham gave a sense of security in a more than lackluster passing attack. He made catches, and yes, JG/Eddie/BMarsh/Scheff did as well, but Graham's felt comfortable. Felt sure. Who stunk? Stink List coming soon! – J.K.J.
Other Game Ball quick hits:
Andra Davis – He showed why he is one of the leaders of the squad. – Josh
Matt Prater – He hit two tough field goals on a day we couldn't produce any offense. – Josh
Tony Scheffler – For that interception there at the end. – Ian
Marcus Thomas – He made an argument to be a starter Sunday, constantly demanding double teams while the starting ends had a so-so outing. – Kyle
Who'd me miss, Broncos fans? Give out your game balls or add props to ours in the comments.