Posted Sat Sep 12th by Monty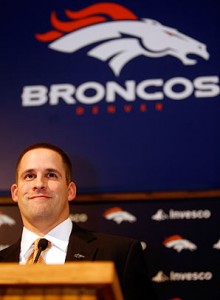 How does a fan cope when his team heads in what he believes is the wrong direction?
Mike Shanahan: out.  Jay Cutler: out.  Seven defensive starters from 2008: out (OK, this one's not so bad).
In: Josh McDaniels.  In: Kyle Orton.  In: Mike Nolan, Brian Dawkins, Ronald Fields and Andre Goodman.
And that really tells you everything about the Denver Broncos' 2009 offseason.  The times, and the team, they are a-changing. 50 years from its inception, the Broncos have never had an offseason with as much turnover as this one.
Whether the changes are for the better remains to be seen. But to answer the original question: there are many ways to cope. Anger. Resentment. Rationalization. Sadness. Blind faith.
All of them have their virtues and bring one to different conclusions. It's taken me an entire offseason to come to mine: Hope for the best. Brace for the worst.
FROM MASTERMIND TO McKID
NOTE: This post is seven pages long. Be sure to click through after the poll.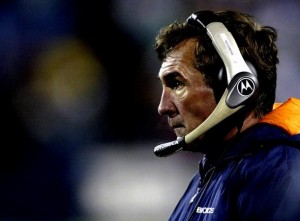 The decision to fire Mike Shanahan, the winningest coach in team history and deliverer of two Super Bowl trophies, will be a topic of heated discussion in Colorado for years to come. I have felt and maintain that this is the single-biggest mistake in Broncos history.
I still cannot justify the firing. Shanahan was moving in the right direction, and had begun drafting the type of talent the team needed to compete in the playoffs again. Bringing in the likes of Cutler, Elvis Dumervil, Brandon Marshall, Chris Kuper, Ryan Clady, Eddie Royal, and Peyton Hillis showed that "the Mastermind" had started to bring his on-field mastery to the personnel department. It was only a matter of time – and in my opinion, not much longer – before the Broncos were among the great teams again.
Granted, there might never again be as epic a collapse as the Broncos suffered in 2008, and Shanahan should have certainly been held accountable. But in my view, there are offenses, and then there are fireable offenses. Shanahan's failure to win one-of-three doesn't belong in the latter.
Enter Josh McDaniels. Can you like Shanahan without hating McDaniels, and vice-versa? Separating the issues of firing Shanahan and hiring McDaniels can be difficult, but I choose to do so. I like them both. I said it at the time that Pat Bowlen was furiously exploring the coaching carousel: if it's not Shanahan, McDaniels is the man for the job.
His experience with both the offense and defense is what really sold me, along with the records he set at a young age. I think McDaniels has the potential to be a special Head Coach in Denver.
Unfortunately, I think it will take some time.
2009 Outlook: There will be growing pains with Josh McDaniels. We've been so used to Shanahan's ability to manage the clock, ice kickers, throw appropriate challenge flags, and keep defenses on their toes that seeing a rookie coach stumble at times will be frustrating. I saw McDaniels stumble in the preseason – there were situations he missed, most especially involving potential challenges, that have me concerned for his ability to manage the game as effectively. I think some of this will carry into the regular season.
I think McDaniels is prepared, confident, and has the right type of moxie, but struggles as a first year head coach on the world's biggest stage are inevitable.

Loading ...
Pages: 1 2 3 4 5 6