Posted Sat Sep 5th by Monty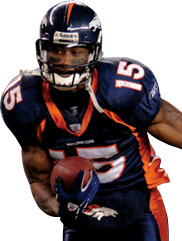 The Denver Broncos announced their finalized 53-man roster Saturday evening, with a few minor surprises but nothing wholly unexpected. However, this roster won't be finalized for long: an issue with one player will force the Broncos to tweak the roster again Sunday. Who on the roster could possibly be giving the Broncos trouble?
Brandon Marshall, who else?
Marshall isn't listed among the 53 – he's still listed undert Reserved/Suspended. So tomorrow, when his team-imposed suspension is scheduled to end, Marshall will have to be officially added back to the Broncos roster. Whether he likes it or not.
Marshall's return does bring up some very real questions: what do the Broncos do to make room? If they add a player released by another team this weekend, how do they tweak the roster? They have several options. Let's break it down.
PUP LIST
UPDATE: This article was originally published with "possible PUP-list candidates" based on current injuries. My understanding of the PUP list was incorrect; a player can only be placed on this list at the start of training camp, three weeks before the 53-man roster is set. The team then has until six weeks into the regular season to activate them.
(You would think after covering this very topic and writing about it extensively over the past three seasons that this would have stuck. Such is the art of navigating the complicated world of NFL PUP lists/practice squads/waived-injureds/etc. *Oops.* The Broncos' only option to make moves around their roster is to release a player (see below). I apologize for the misunderstanding.)
RELEASE
There's also a good chance the Broncos could release another player outright to make room for Marshall. Here are some players on the bubble who could be getting a belated visit from the Turk Sunday.
OT Brandon Gorin – Hard for me to see the Broncos keeping two backup tackles when they have Russ Hochstein, who plays everywhere.  This was the guy I left off my prediction post in Marshall's stead.
WR Chad Jackson – The receiver could very well take the place of another receiver.  Jackson would be the guy.
RB LaMont Jordan – OK, I'm bitter, sue me.  This guy is bigger and can block better than Darius Walker, but that's about it.  Forgive me for wanting a player with upside at my fourth running back roster spot.
S Josh Barrett – Barrett was on the bubble for a roster spot to begin with; his injury status certainly doesn't solidify his spot in the locker room.
DE/OLB Jarvis Moss – When push comes to shove, will the Broncos stick with their decision to stick with Moss?
DL Le Kevin Smith – I don't think Smith will be released, but is it possible he will be placed on Injured/Reserve?  Reports have surfaced indicating his knee injury is actually a torn meniscus, and that the team signed Vonnie Holliday in part because of this injury.
LB Darrell Reid – Until his preseason-meltdown-saving interception Thursday, the outside linebacker hadn't been playing well.  He lost his starting job to Mario Haggan in camp and had all of four tackles in three preseason games.  With nine linebackers on the roster, Reid's spot was by no means a lock, and I actually wavered back and forth on Reid when predicting my final 53 prediction roster.  You heard it here first…
WAIVER WIRE
Finally, a semi-related note. If recent events are any indication, the Broncos will continue to adjust their roster by bringing in players waived by other teams.  Marshall's return is a sure thing, but it's likely they'll do their due dilligence on other teams' released players (like, say, New England's).  Will they invest in a quarterback while Simms and Orton are hurt, like Jeff Garcia or Brian Brohm? Will they take a look at former Boise St. running back Ian Johnson, who has experience in the zone blocking scheme and is a national headliner to boot? Keep an eye on the couple hundred players released over the past 48 hours; a few of them might wind up in Denver.
And if/when that happens, expect more of the possibilities listed above to become a reality.