Posted Tue Aug 25th by Monty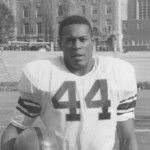 There are plenty of Broncos who are unjustly absent from the Pro Football Hall of Fame. Randy Gradishar, Louis Wright, and more recently Terrell Davis and Shannon Sharpe have all been denied induction into Canton's hallowed halls. But in my humble opinion, Floyd Little has always been the grossest error of them all.
Today, a major, major first step was taken toward Little's enshrinement – #44 has been named by the Pro Football Hall of Fame Seniors Committee as one of their two senior candidates. Along with current Steelers defensive coordinator Dick LeBeau, Little will be among the finalists on which the committee will vote in Jan/Feb 2010.
For more on Little, who was nicknamed "The Franchise" and saved the Broncos from certain relocation, please refer to this piece: Floyd Little Belongs in the Hall of Fame. We'll have much, much more on Little in the weeks and months ahead, and we'll be doing our part to encourage the Hall of Fame voters to get Little, and all these Broncos, in the Hall.