Posted Mon Aug 3rd by Monty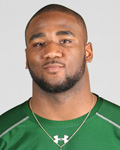 UPDATE: Robert Ayers and Broncos agree to terms.
Both Adam Schefter and his former employer are reporting that rookie linebacker Robert Ayers is very close to agreeing to terms with the Denver Broncos. If he signs soon enough, Ayers would be able to participate in afternoon practice beginning at 5:30.
No word on how close the Broncos and their other first-round holdout, Knowshon Moreno, are to a contract.