Posted Mon Jul 13th by Monty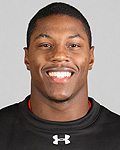 ProFootballTalk is reporting that the Denver Broncos and first-round draft pick Knowshon Moreno have begun contract negotiations.
Historically, the Broncos (like most NFL teams) don't get their first-round draft picks signed until the eve or day of training camp. With two first-round picks to sign before camp breaks, the new regime is getting a head-start, although beginning talks early doesn't necessarily guarantee a contract much sooner.
Last year's first round draft pick, Ryan Clady, signed in the early morning hours of the first day of training camp. Clady's contract entitled the offensive tackle to $14.75 million over six seasons, including $11.4M guaranteed. Expect Moreno, also the 12th pick, to rake in a bit more than that.
To date, seventh round pick C Blake Schlueter is the only 2009 Denver Broncos draft pick to sign with the club. Expect that to change – furiously – over the next few weeks.