Posted Wed Jun 17th by Monty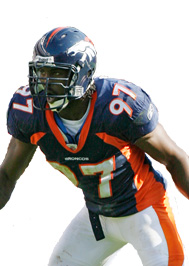 A year after joining the Denver Broncos' linebacker corps, Boss Bailey isn't making the cut.
Multiple sources are reporting that Bailey has been released by the Broncos, putting a premature ending to a Bailey Brothers campaign that was expected to bolster the Broncos defense for years but lasted only six games. The seven-year veteran signed a five-year, $17.5 million deal with the Broncos in 2008, with $8 million coming in the first two years of the contract.
The Broncos also reportedly released linebacker and long-time special teams ace Louis Green on Tuesday. Green was a special teams standout after signing with the Broncos as an unrestricted free agent in 2004.
It must be noted that the Broncos have yet to confirm either roster move.
There's a lot to take from these moves, assuming they're true. First, the old regime really did have trouble evaluating defensive talent to sign and keep these veterans while the new staff cuts them before training camp. Second, the development of young guns like Elvis Dumervil, Tim Crowder, and yes, even Jarvis Moss at linebacker must be showing some promise for this coaching staff to feel comfortable enough to make these cuts. I can't wait to see how the defense looks come training camp.