Posted Fri Jun 5th by Monty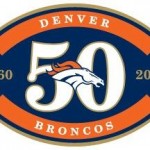 The 2009 NFL season marks the 50th anniversary of the Denver Broncos. To commemorate the past while embracing the future, the franchise is recognizing its community of fans who have been an integral part of Broncos Country during the first 50 seasons.
As a part of the celebration, fans have the opportunity to select their choice for the All-Time Denver Broncos Team through an online voting tool found at http://www.denverbroncos.com/50th/ (Editor's note: page is not online yet). Voting begins June 6 and can be completed at Fan Fair or by logging on to DenverBroncos.com any time. Voting concludes Sept. 4.
The rest of the press release can be found after the jump. These are the types of questions and debates that make perfect offseason fodder, and there are a ton to choose from. For instance, who would be the Broncos' all-time running back? Terrell Davis or Floyd Little. Without Little, the Broncos might not have survived the early years in Denver. Without Davis, the Broncos might not have won two Super Bowls. Voting starts tomorrow, but be sure to give your choices here in the comments.
The players receiving the most fan votes will comprise the 50th Anniversary Team. The resulting team will be honored in person during halftime at the Legacy Game – when the New England Patriots visit INVESCO Field at Mile High on Oct. 11. In addition, one lucky voter will have the opportunity to join the 50th Anniversary Team during this ceremony.
The interactive voting tool features the Broncos' history and highlights spanning the past 50 seasons through the use of video and additional multimedia. Each player is represented by their respective biography, statistics and photographs. Fans register their team choice through the online tool and become part of shaping the 50th Anniversary Team.
The web application was developed by the Broncos' online marketing partner, Akavit – the principle digital agency behind DenverBroncos.com and BroncosCountry.com.
"We are proud of our partnership with the Denver Broncos and are delighted with how the fans have embraced our efforts on BroncosCountry.com and DenverBroncos.com," said Thomas Dahl, vice president of technical strategy at Akavit. "With the release of the 50th Anniversary Team interactive voting system, we hope to engage the fans on a whole new level and further the Broncos' position as an online leader."
Akavit is a leading interactive marketing and technology agency that specializes in creating digital solutions that engage and immerse users in a client's brand. Through dedication to innovation, Akavit empowers clients to most effectively leverage existing and emerging digital channels, resulting in high-impact, cost-effective marketing campaigns.
To learn more about Akavit, visit www.akavitgroup.com.