Let the purging of the backfield begin. Denver Post reports that tailback J.J. Arrington has been cut after failing his physical.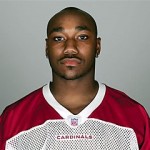 So much for my Madden season. Down goes my three-headed monster Moreno/Arrington/Hillis.
UPDATE: The Denver Post is now reporting that Arrington required season-ending micro fracture knee surgery. He will be out for the season.

The first departure of the crowded backfield obviously won't be the last, but I am surprised that the former Cardinal is leaving Denver so early. With the release the Broncos take a $1.8 million signing bonus hit. But hey, if the guy can't play, there ain't no use keeping him around. Hopefully this means the young bunch will get more detailed attention. Could also be a warning shot from Coach McD to anyone who isn't making their way to the practice field.
2nd UPDATE: Arrington's bonus was totally dependent on his participation in the OTA's.
J.J., we hardly knew ya…