Posted Fri May 22nd by Monty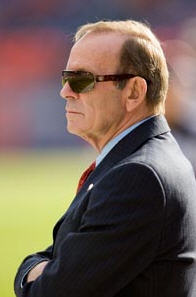 The Denver Broncos have had quite the offseason. They fired a head coach, hired a young gun, signed a safety, traded a quarterback, and drafted blindfolded (just kidding – sort of). When all is said and done, the fruits of their labor will be seen on the field; until then, the masses can only speculate.
Don't count owner Pat Bowlen among the masses. Appearing on ESPN Radio Chicago this week, Bowlen hesitated to comment about the status of his team. Furthermore, when asked about Kyle Orton, Bowlen couldn't commit to the ex-Bear as the starter.
"It's a little early for me to start commenting on stuff like that, so we'll see. We're going through some OTAs and you know we're watching guys throw footballs around. But, we're a long way away-at least I'm a long way-from making any serious judgment calls on who is going to be good and who isn't."
We've known it's a race between Chris Simms and Orton, but I'd be able to sleep a lot easier if one of these guys would start to pull away. Hopefuly we'll get more answers during the Broncos' minicamp/passing camp on May 26-29, June 2-5 and 8-10.
ESPN Radio Podcast with Pat Bowlen (scroll to about 39:12)