Posted Thu Apr 30th by Monty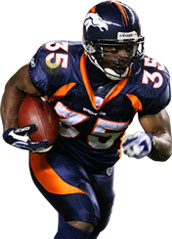 A few days after drafting Knowshown Moreno, the Denver Broncos made their first move to thin their crowded RB backfield. Selvin Young, the team's starting running back heading into last season, was waived by the team today, it was announced.
Young joined the Broncos in 2007 as a college free agent from the University of Texas. He played 23 games (13 starts) in two seasons with Denver, totaling 201 rushes for 1,032 yards (5.1 avg.) with two touchdowns and 38 receptions for 247 yards (6.5 avg.).
This comes as little surprise. Expect the Broncos to make more moves at running back in the coming months. Young may get a few feelers from around the league, helped mainly by his 5+ ypc. Best of luck Selvin!