Posted Sun Apr 26th by Monty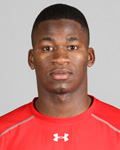 The Denver Broncos continue to show they aren't afraid to move around the draft board to get the players they want, trading their sixth round draft pick to move up eight spots and select wide receiver Kenny McKinley in the 5th round (141st overall) of the 2009 NFL Draft.
McKinley (6'0″, 189 lbs.) is a senior from South Carolina who has his name in both school and SEC record books. He set school career records for receptions and receiving yards, while also closing out his career second on the school's all-time touchdown catches list. His 207 receptions seat him third in conference annals, and he is just the fifth SEC player to amass more than 200 catches in a career. He also became the 12th player in league history to record more than 2,700 receiving yards (2,781). Head Coach Steve Spurrier called McKinley the best wide receiver he had ever coached.
McKinley is scouted as a slot receiver and may need to bulk up to make an impact at the NFL level. I'm happy with our depth at wide receiver, so I'm not particularly fond of this move. Why is it that whenever we do a trade, it's for a position which I wouldn't necessarily even add a player in the first place?… The Broncos have two selections remaining, both in the seventh round.