Posted Sun Apr 26th by Monty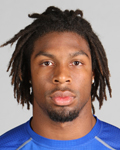 The Denver Broncos drafted a defensive back for the third time in the 2009 NFL Draft, selecting Notre Dame free safety David Bruton with the 114th overall pick (4th round).
Bruton had two very productive seasons as a starter for Notre Dame, including his senior season in 2008 where he served as team captain.  The 6'2″, 219 lbs. Ohio native tallied 176 tackles and seven interceptions in those two seasons.  Bruton was also a special teams ace for the Irish and will make an immediate impact for the Broncos in this area.  Knocks on Bruton include his closing speed and occasional lack of physicality in run support.
My bafflement is turning into frustration.  At some point the Broncos need to address the front seven on defense… don't they?  While I like Robert Ayers, forgive me for not thinking that was quite enough to settle this, you know, "entire defense" problem.