Posted Sat Apr 25th by Monty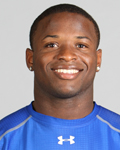 The Denver Broncos weren't expected to be on the clock when they selected DB Alphonso Smith early in the second round. But they saw something in the 5'9″, 193 lb. cornerback that made them trade their natural 2010 first round draft pick (not the Chicago Bears' pick they received in the Jay Cutler trade) to get him.
Smith, a senior hailing from Wake Forest, was extremely productive in college, tallying a whopping 20 interceptions for his career. He was also disruptive in the backfield, notching nine sacks, 23.5 tackles for loss, and eight forced fumbles in his career. Smith will also make an impact on special teams, where he was a capable kickoff returner for the Demon Deacons, averaging 20.7 yards per return.
Like the player, hate the cost. This was a weak draft class to begin with; why trade a potentially high – possibly top 10 – first round draft pick next year for a second round corner this year? I'm livid at whoever suggested and green lit this trade; it should have been laughed out of the Broncos' war room. Quotes from Smith after the jump.
On disappointment in falling to second round
"Honestly, I came into (the draft) expecting the worst, which is to be a second round pick. I am kind of disappointed, but being that Denver drafted me at 37 I couldn't care less now because it's one of the teams I preferred to go to; along with Atlanta for location reasons and the Miami Dolphins for the location. Denver was one of the teams I really wanted to play for and just having a chance to play with (CB) Champ (Bailey) and (S) Renaldo Hill, and my favorite player in the league is (S) Brian Dawkins. So, just to be in the same locker room and meeting room with those guys is truly a pleasure. And now that it's all over, I couldn't care less."
On how he'll contribute immediately as a rookie
"I have the attitude that I'm trying to come in and start right away, to be honest with you. That's the way I'm going to approach this thing and if it happens, it'll be great, but if not, if that's not the case I started all four years at nickel at Wake Forest and I think I'm pretty good at it. I think I'll be able to make an immediate impact with that being said."
On his game
"I'm really instinctive and what I think separated me from the other corners was, I understand the game. I'm really smart, I take calculated risks instead of – I get coined as a "gambler" sometimes, but I know when I can do. I think that's one of the things that attracted Coach (Josh) McDaniels and (Secondary) Coach Ed Donatell to me, and (Defensive Coordinator) Coach Mike Nolan is that I'm a pretty savvy football player and instinctive."
On how playing with veterans will help his game
"One of the reasons I was so attracted to Denver, I was like 'Oh, my God, I'm going to be in the same locker with (CB) Champ Bailey, (S) Brian Dawkins, (S) Renaldo Hill.' All of these guys have played more than five years. They know the game. And just being a rookie, it's the best situation coming in. And I think, with that being said, I'll add a little pressure to myself; I might have the best rookie season out of the cornerbacks."
On LB Aaron Curry
"What makes (LB) Aaron Curry a special player is that this kid is the hardest working kid I've ever seen and he's one of the smartest kids. Aaron Curry, you can just look at him and the tape explains it all about him; I don't need to say much about him. What I will allude to is, all Wake Forest Players are like that. Smart guys who play extremely hard and guys that have the knack for making plays and that's Aaron Curry and myself. That's our mode, the Wake Forest guys; smart, play like our hair is on fire and we're just good guys all around."