Posted Sat Apr 25th by Monty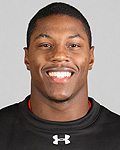 The Denver Broncos have made their first draft choice of the 2009 NFL Draft, selecting running back Knowshon Moreno out of Georgia with the 12th overall pick. With many fans clamoring for a defensive playmaker, and Brian Orakpo staring the Broncos straight in the face, this draft pick is already mired in surprise and controversy.
You can view Knowshon Moreno video highlights here. The Broncos' next selection is in the first round, 18th overall. Quotes from Moreno after the jump.
On reaction of call from Head Coach Josh McDaniels
"Just very excited. Very excited to be a part of everything. And I was just really happy about it."
On being surprised to go to Denver
"You know, a lot of teams needed (running) backs, but I didn't know what was going to happen. But once I got that call, got that idea and (Head Coach Josh McDaniels) told me about it, about that they (the Broncos) were going to take me, I was so excited about the situation and to be a part of the team now."
On meetings and workouts with Broncos prior to the 2009 NFL Draft
"It went really well. Went to Denver and met the coach and the coaching staff and met a lot of the players, I was excited about that. And I can't wait to get there for good and workout."
On where he fits in the tailback mix with the Broncos
"Well, I'm going to try to fit in wherever I do; no matter where it is on the field. I'm going to work hard, prepare myself for the league, for passing and some things like that. I'll fit in where I can and learn from the guys that are there and compete and work hard. And get my team and myself better off."
On scene today at draft, family reaction
"We were just here at the hotel, relaxing, and have close friends and family here. We were just relaxing, watching (the draft) and they were really excited."
On what he will bring to Denver
"Really, I'm a high-motor guy. Tough, hard-nosed, a hard runner, can make you miss at times. And just competitive. I love to play the game and I bring that energy to my team. So, we'll see how that goes."
On knowledge of Head Coach Josh McDaniels' offense
"We went over a few formations. But besides that, I don't really know too much about it. So I'm really anxious to get into the system and learn the playbook, that's a tough thing with rookies coming in. So I want to get in, learn the playbook, learn the system and just go from there."
On running into Bailey brothers (CB Champ and LB Boss) at University of Georgia
"No. Actually I never got the chance to. But I know they're great players, great people. You see their pictures all over the place. But besides that I never got the chance to really meet them, but I'm excited to do that."
On chance of ending up in Denver
"A slight chance. You know, knowing that the draft is like a lottery and you never know what's going to happen; you saw a little bit of that today. But I didn't really know what was going to happen, but I'm really excited about it and I'm happy it did."
On excited to be joining team during the rebuilding process
"Yeah. It's a great coaching staff. Great to be working with Bobby Turner, the running backs coach. He has coached a few Georgia running backs over the years, and I want to be a part of that list and see what happens. And work hard and be the best I can be."
On being aware of Broncos running backs selected in previous drafts
"Definitely, definitely. You know, Terrell Davis was a (University of) Georgia guy, late rounder, but he really blossomed. And I think a lot of that comes from how he was coached. Especially with Bobby Turner and the staff that was there. So I'm really excited to work with him and I can't wait."
On whether arriving to training camp is a priority
"Definitely, definitely; that's one of my main goals. I want to get there on time, I want to be with my team and I want to work. That's one of my main things is to get (to training camp) on time and get things settled."
On personal characteristics
"I guess I'm a funny guy, I'm laid back, and I'm really excited about everything. I like bowling. I like to bowl a lot. Video games, I guess a lot of the guys play video games these days. I guess that's pretty much it. But I'm really going to be excited to meet my teammates, and I think they're going to like me also."
On reaction to QB Matthew Stafford being picked No. 1 overall
"I was really excited for him. He looks happy, his family looks happy, and that's the main thing, that his family's happy and everything's going well. I didn't hit him up yet, I didn't call him or text him because I know he's getting plenty. But I'll do that later."