Finally the fans have been addressed publicly about the Nose Tackle position. The Denver Post quotes head coach Josh McDaniels has stated clearly that there is no obvious starter and it will be an ongoing process.
"We're going to try multiple people there. It will be interesting," McDaniels said. "We're kind of excited to see who can or who couldn't and what we need to do with those guys. I think they all present different problems in their own right."
The Broncos have picked up a few different players to fill this position but no standout has emerged yet. Former San Francisco 49er Ronald Fields has plenty of experience but only as a backup last season. J'Vonne Parker is huge at 6'4, and 325 pounds but he has bounced around four different teams, not exactly screaming "start me!" The article also states that Marcus Thomas could some reps at the spot as well as practice squader Matthias Askew.
"We want them to be big," McDaniels said. "One of the things, I've said it since I arrived in Denver, is we want to be tough, physical, and I think that's going to start up front on both sides of the ball. We're looking to add size and versatility, and we want to be able to stop the run."
Since the only player that is over 315 pounds is J'Vonne Parker, the draft will most likely access this need more. Keep your fingers crossed for B.J. Raji!
Hybrid Outside Linebackers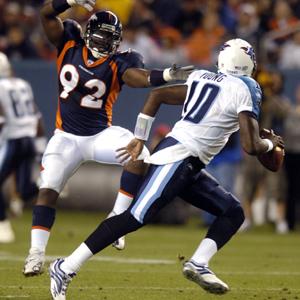 McDaniels also went on the discuss the versatility Elvis Dumervil and Darrell Reid will show this upcoming season.
"We really like a lot of the abilities players like Elvis have because they're not always a clean matchup for someone on the other side of the ball," McDaniels said. "He's going to do both. He's going to have his hand on the ground some, and he's going to stand up some."
From what has been said not only in this article but in the past, it seems like the defensive will be versatile. This means that it will be something like a 3-4 hybrid. Neither the head coach or defensive coordinator have said that the defense will be a 3-4 or a 4-3, but McDaniels has said that they will be "aggressive" and they will adapt from week to week. My guess is that it will be mainly a 3-4 that will run a 4-3 package when necessary.
"I think it's really important that we see where we finish this spring, and head into training camp in terms of our personnel," McDaniels said. "I don't think we can really sit there today and say, 'That looks perfect.' 
Even despite the Jay Cutler controversy, McDaniels remains focused.