Posted Mon Mar 16th by Monty
Jay Cutler has requested a trade. Somebody pinch me, I think I've died and gone to hell.
Who's to blame? Woody Paige makes a lot of great points in his latest piece for the Denver Post, none more so than this: there's plenty of blame to go around. Owner, coach, player and agent all share the blame in this massive disaster in Denver. And in the end, everyone loses.
But Josh McDaniels has shown that he is grossly under-prepared to manage a professional football franchise. Blame the agent all you want; he was doing his job. Both player and agent will come out much richer for it.
If only McDaniels had done his. McDaniels' job includes preparing for agent-player-drama and dousing the flames before the smoke even starts. Cutler's agent Bus Cook took this silly putty of a rookie coach in his hands and twisted him, turned him, and shaped him into a Rocky Mountain punchline. Then he left the Denver Broncos with the mess.
McDaniels should have seen this coming. The fans did. He had every opportunity to make it right.
And all it took was four little words: "Jay, you're my guy."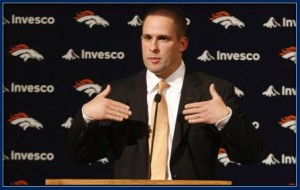 The coach couldn't, or wouldn't, say those words. His foolish pride wouldn't let him. He was more concerned with sending a message that he – and let's not joke that it's Pat Bowlen – runs the show.
This is the show you want to pride yourself in running, Josh McDaniels?
Now the Broncos are faced with a no-win situation. There is no way Jay Cutler is a Bronco on opening day 2009. Even if the Broncos sit on Cutler and ignore his trade request, the rift is too great and the risk along with it for the Broncos to take their chances with #6 this season. If things go south – and who doesn't believe they would – McD would have to bench Jay-C, his stock would fall, and the Broncos would be left trading him for much less
No, Cutler will be traded. There's no escaping that now. And while everyone has played a part in this ridiculous drama, it was McDaniels' job to fix it. He failed. The Broncos – and more so, the fans – will pay the price. We'll start over in 2010 with a new coach and have to refresh this franchise. The pieces were in place to win now — now it's a rebuilding process that will take at least two or three seasons.
And the Broncos are left looking for the next John Elway again.
Josh McDaniels: Dead Man Walking.

Loading ...