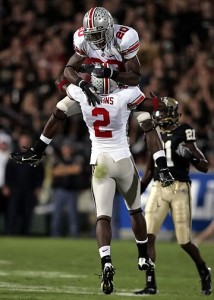 UPDATE:Â Jenkins ran a 4.47 low and a 4.52 high at his pro day and his private workout is moved to the middle of next week, per SportingNews.com. I'm certain the two are unrelated. Denver will still be the first to get a crack at Jenkins.
According to SportingNews.com Ohio State cornerback Malcolm Jenkins' first private workout will be with the Denver Broncos next Friday some time in the middle of next week. Also according to an interview Boston College defensive tackle B.J. Raji said he also has a private workout with Denver on Friday March 20th. According to PFT Connecticut's running back Donald Brown will have his own workout come March 24th, the day before his pro day. Brown would be the second running back to workout for the Broncos. Small christian college Liberty's Rashad Jennings worked out for Denver just last Sunday, March 8th.
The Draft is a little over a month away, it is good to see Denver checking out the top prospects available within their reach, that being Raji and Jenkins. It is no surprise to anyone if Raji falls the Broncos would be foolish not to select him. Now the prospect of Jenkins as a first rounder for Denver would make a statement. Perhaps Mike Nolan isn't exactly planning for an antique secondary after all. McDaniels giving Brown and Jennings a workout causes some intrigue as well. All in all this is a smart move regardless of the level of interest. It's good to see the front office is on the ball with this.
Here's a quick synopsis of these players.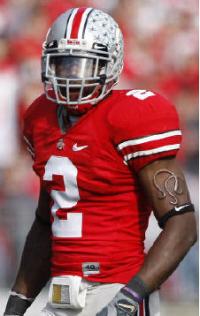 Name: Malcolm Jenkins
School: Ohio State
Standing: Senior
Height: 6'0
Weight: 204 (Combine)
Pro Day 40: 4.47
Round: Top 20 overall
Pros: Malcolm Jenkins has amazing size for a corner. Jenkins is the 2008 Jim Thorpe Award Winner, which puts him in the same company as Deion Sanders, Charles Woodson, Antoine Windfield, Roy Williams, Terrance Newman, Carlos Rodgers, Michael Huff, Aaron Ross, and Antoine Cason. Thats a pretty good list of company to be in the same sentence with. Jenkins is known for his great instincts and leadership shown during game time. Here's some highlights and his combine footage.
Cons: The big question about Jenkins is his ability to play corner in the NFL with his linear speed. Jenkins was clocked at a 4.55 at the combine. UPDATE:Â Jenkins ran a 4.47 at his pro day which is closer to the speed teams want out of him.The instincts Jenkins possesses may allow him to keep with top receivers but his speed could leave him behind and better suited at free safety. Jenkins said in an interview with NFL Network at the combine that he wasn't sure he was going to run the 40 at his pro day, which I believe is ill advised. Hopefully the nation will see a 40 around 4.5 or lower.
 
Name: B.J. Raji
School: Boston College
Standing: Senior
Height: 6'1
Weight: 331 (Pro Day)
Combine 40: 5.13
Round: Top 12 overall
Pros: This Boston College manbeast eats up blocks like no other. Raji is very good at not over pursuing and returning to the ball. Seriously, if you don't believe me check it here and here. Here's his combine footage.
Cons: Raji has encountered some maturity problems, which include being academically ineligible the 2007 season and he was also ejected from a game in 2006 due to throwing a punch. However, Raji has rebounded to a problem free 2008 season and has been impressing scouts not only with his skills but his personality as well. His weight has been fluctuating a few pounds here and there but he stated that it is just due to his hectic schedule and when things calm down he'll be back on routine. Here is his interview with the NFL Network.
 
Name: Donald Brown
School: Connecticut
Standing: Junior
Height: 5'10
Weight: 210 (Combine)
Combine 40: 4.51
Round: 1-2
Pros: Donald Brown put up huge numbers at Connecticut through the years, totaling 3,800 yards in 3 seasons and 2,083 of those yards came this last season alone. Brown is a very patient back which would benefit him behind Denver's offensive line. Also, Brown has great vision and just like Terrell Davis Brown is great at getting his shoulders square to the line of scrimmage. Drafting Brown is an interesting situation because he is way to entirely high for 12 and will be gone by 48. If Denver wants to land Brown some type of trade will have to be initiated. Here is his combine footage.
Cons: Some analysts have asked why Brown didn't beat last years' starter Andre Dixon. Brown's ability to run the ball north to south is also questionable. Durability and ball security have come into question as well. Brown has been recommended to gain some weight to deal with a full time workload in the NFL.
 
Name: Rashad Jennings
School: Liberty
Standing: Junior
Height: 6'1
Weight: 231 (Pro Day)
Pro Day 40: 4.52
Round: 4-5
Pros: Jennings has been labeled a 'work horse' style back. Jennings isn't the fastest back out there but he is quite fast for his size. A true north to south runner, Jennings will run you right over. Jennings is extremely productive, he has totaled 4,051 yards and 42 touchdowns in his career. In every single game of 2008 Jennings played he tallied at least 100 all purpose yards, only one game where he did not rush for 100 yards, but he ran for 56 and caught for 54. Jennings will most likely be available in the later rounds and Denver has an abundance of those picks. Here is his combine footage and a highlight reel.
Cons: Jennings is from the Division I-AA, has never really played against any big namers, and possibly the hardest opposing team was Coastal Carolina. Since Jennings doesn't have great speed he will be caught by some linebackers and most safeties. Jennings also had problems Pittsburgh before transferring to Liberty.
What do you think Bronco Nation? Should Denver add to the crowded running back situation via this year's draft? What about Jenkins and Raji? Could the draft be any freakin' farther away!? Air it out! Also, keep a look out for my updated mock draft to be released soon.