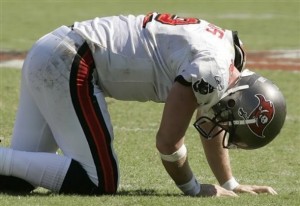 September 24th, 2006. The Tampa Bay Bucanneers are down 21-23 to the Carolina Panthers in the 4th quarter. Starting quarterback Chris Simms had taken a series of ferocious hits, including one en-route to a touchdown scramble. Simms stepped onto the field in great pain, but he knew what had to be done… score. After two plays it's third down three yards to go. Simms drops back guns the ball to Ike Hillard who pulls it in for 16 yards. The following play Simms airs it up to Alex Smith for 27 yards. The next set of downs resulting a pair of running plays going three out but on fourth down kicker Matt Bryant easily nailed a 28 yard field goal to put Tampa Bay in the lead 24-23. Sadly Carolina came back and kicked a field goal with 4 seconds remaining winning the contest 26-23. What was even more sad is that Chris Simms was immediately taken to the hospital after the game. The problem? Simms was hit so hard on his touchdown run that his spleen had ruptured. That means he played through all of that during his lead changing drive. Or as WithLeather.com eloqently put it,
"He played the entire 4th quarter of the Bucs' loss to the Panthers with his ruptured spleen bleeding all over his other organs… Nice work by the Tampa team doctors there: Aw, you just got your ribs banged up! Quit cryin' and get back out there! Chris Simms could have f—ing died."
That's a warrior.
Even according the ESPN report Jon Gruden had no idea what was wrong,
"He is hurting right now, there is no question," Gruden said. "He left the game. I don't know that it was because of his ribs, dehydration or both."
Simms Wikipedia page cites:
Simms has performed better than expected and has a knack for late-game heroics. He led fourth-quarter charges against fellow division rival Atlanta twice, as well as the Washington Redskins. The Redskin game was his best performance of the year as Simms threw for 3 scores as the Buccaneers won 36-35 in a remarkable game. 
Of course it's just Wikipedia, but we all know thats where 75% of our information derives from. Simms' stats are not the prettiest at 12 TDs to 17 INTs and 7-8 starter record, which is probably why he earned current state as a backup. However, I'd take this Texas graduate with football blood (just not in his non-existent spleen) over Patrick Ramsey any day. Perhaps the most compelling reason to have Chris as a backup is that now his father Phil Simms has to say nice things about the Broncos. Random fun fact time! Chris Simms is the second son of super bowl winning quarterback to play for the Broncos. Thanks to Brian Griese. 
If the day ever comes, after my heart resumes beating and the unthinkable just happened, I'll yell at the TV screen as Chris Simms runs on to the field, "Give em hell Chris!". After all, one difference between Jay Cutler and Chris Simms is that one has started a playoff game.
Authors Note: The last sentence does not imply that I think Chris Simms is better than Jay Cutler, it is merely an ironic comparison.