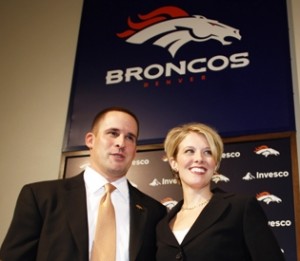 I'm calling on my inner Woody Paige for this, and I'm writing an editorial on this past week's debacle which has shaken the foundation of the league. As my fellow BT writer Jonathan Douglas aptly put it, a plethora of Denver fans are starting to lose that lovin' feeling. My thoughts were this:
This feeling is because of the ambiguity surrounded by this whole situation, you're not sure who cheated you. Was it Cutler who asked for the trade earlier? Was it McDaniels and Xanders who asked first? Why can't Brandon Marshall stay out of cuffs? Why can't Cutler meet with McDaniels? This drama never happened before. It's not just one person's fault, it's a collective group of mistrials that are tearing apart at the soul of your fandom.
The truth is that this is Josh McDaniels' team whether you like it or not. The fans may lose faith in McDaniels for even involving Jay Cutler in trade talks whether or not he was provoked to do so. However, you have to respect McDaniels in his attempt to control the team. McDaniels has put everyone on high notice that he is the boss, this is a business, and he's asking you one question, as newly acquired Bronco Brian Dawkins says "Are you gonna do your doggone job!!!?"
I agree that it would be social suicide for McDaniels to trade Cutler, an exteremly ill advised move. However, it makes no sense to call McDaniels an idiot and to ask for his head prematurely. After this early hiccup McDaniels seems to understand now, even after the Vikings have shown interest, per Mike Klis. Perhaps he was a little to cocky after his Cassel situation last season, and knew what he was capable of on the coaching side. After all he knows more about winning lately than his understudies Rick Dennison and Mike Nolan. What always intrigued me about him was that he was fervent in stating that he wasn't an offensive coach, he was a football coach. McDaniels is here to put together a football team that is here to win. The difference between him and the other Belichick underlings is that he was taught in that atmosphere, the rest learned at other places and used their coordinator positions primarily as stepping stones. McDaniels is going to take away the best of New England and bring it to Denver, every new coach does it this way, just look at Gary Kubiak, hell even Bill Belichick himself brought the Bill Parcells mentality to New England. This is just something fans have to get used to, don't worry the Denver Broncos are not a transmogrification of the Patriots, keep in mind Mike Shanahan brought over a wealth of knowledge from Bill Walsh and George Seifert.
My question to Cutler is, when are you going to put all of this to rest? I understand you're a franchise quarterback and you have performed more than admirably in your seasons here, but everyone has a price. To pretend that a price tag doesn't exist is just simply arrogance. Franchise quarterbacks have been sent away before, just ask Drew Bledsoe. Cutler hasn't won anything of significance, not mainly his fault, but the bottom line remains the same. If Jay continues to refuse to mend his relationship with his bosses then eventually he should be let go, because he'll just be the next Jeff George. In the real world if your boss treats you unfairly you usually have to suck it up, why is Cutler any different? It's not like Cutler has been the most chummy guy to McDaniels. Between not being available to speak for awhile, then possibly asking for a trade after things don't go your way, and then becoming upset once the opportunity comes around, how is McDaniels supposed to interpret that relationship? You are Josh McDaniels' player, he can do with you as he pleases.
This is the McDaniels era. All Denver fans can do is hold their breath, hope that men can be men and realize who they're really working for… us.
Also, stay tuned for my post-combine mock draft.