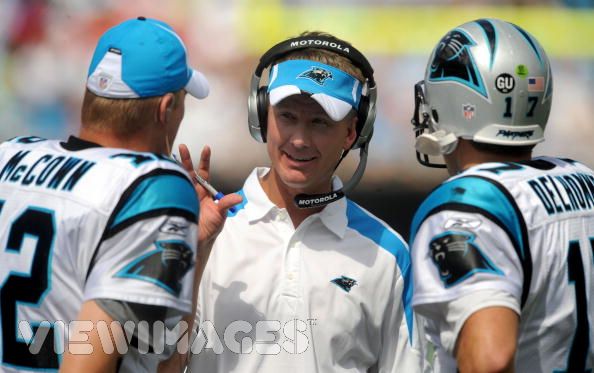 The relationship between a quarterback and his quarterback coach is evidently a very important thing, just ask Jay Cutler. Cutler was very fond of his recently departed QB coach Jeremy Bates, and their relationship had to say something about his 4,526 passing yards.
To make all you Denver fans feel comfortable out there, newly hired offensive coordinator Mike McCoy understands the importance of this relationship. Jake Delhomme even helped McCoy make his decision to move to Denver easier. Delhomme talked to McCoy's 9 year old daughter and calmed her down about the move across the country. The article states:
"According to Mike McCoy, Delhomme talked to little Olivia and put her at ease, sharing that it was hard for him to leave the New Orleans Saints in 2003, but that coming to the Panthers was one of the best decisions he'd ever made."
If your starting QB will do that for you then that's the type of coach every player wants to play for.
Mike McCoy has accomplished many feats throughout his 9 year tenure for the Panthers. In 2007 Carolina became the first NFLÂ team to win one game with 4 different starting quarterbacks each. Those QB's would be pre-injured Jake Delhomme, 45 year old Vinny Testaverde, bona fide backup Luke McCown, and undrafted rookie Matt Moore. Whether or not they single-handedly won their respective game McCoy apparently did a good enough job preparing them to win, and that's what being a QB coach is all about.
I can't wrap my head around why people say it's a bad omen that Jake Delhomme is McCoy's claim to fame. Remember that Delhomme was once a backup in NFL Europe.
1997: In his first and only game played he completed 15/47 passes and threw 4 picks… in NFL Europe.
1998: Threw for 1,410 yards, 12 TDs, and 5 picks during an 11 game period… in NFL Europe.
1999-2003: Sat bench on the Saints, played 6 games, 2 in 1999, 4 in 2002, massed 3 TDs and 5 INTs.
2003:Â Delhomme's first year in Carolina he threw for 3,219 yards, 19 TDs, and 16 INTs.
2004: Threw for 3,886 yards, 29 TDs, and 15 INTs en-route to a Super Bowl appearance.
2005: Delhomme was almost as prolific the next year throwing 3,421 yards, 24 TDs, and 16 INTs.
2006: Despite an injury in only 13 games played Delhomme threw 2,805 yards, 17 TDs, and 11 INTs.
2007: Delhomme was injured again but managed 626 yards, 8 TDs, and 1 INT in 3 games.
2008: Threw for 3,288 yards, 15 TDs, and 12 INTs. His production was cut due to the amazing run game of DeAngelo Williams and Jonathan Stewart. 
A fair amount of the production Delhomme showed had to have came from McCoy, seeing how he was already in Carolina when Delhomme arrived. Say what you want about Jake Delhomme, but he was purely a backup until he went under the helm of Mike McCoy, that's a fact.