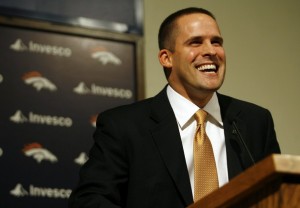 Josh McDaniels' phone has probably been blowing up as of late. Between the lack of communication of his quarterback and all the hiring he's done lately, I'm sure he hasn't had enough time to sleep.
Im sure all Denver fans were wondering when Cutler would finally talk to McDaniels and release a statement about his hiring. Well Denver fans we are half way there. According to the Denver Post McDaniels and Cutler played phone tag for awhile before actually having a conversation. Lets hope that Cutler is as excited as McDaniels is
"We had a great conversation about where we're going, what we're going to do and some of the things we've done in New England in the past and some of the things they did here. We had a very, very lively conversation. I can't wait to meet him."
Another positive thing the Denver Post reports McDaniels mentioned is the importance of a growing a rapport with Cutler.
"McDaniels told reporters Monday that establishing a relationship with Cutler will be important to him, and that he intends to work closely with the quarterbacks."
Now I don't know what that means for Jeremy Bates who was given permission to interview with Oakland, but it doesn't look exactly too bright.
However, the future is looking bright for the new hires Ed Donatell and Adam Gase. These hires will be the new secondary coach and receivers coach respectively.
Good news for Rick Dennison and Bobby Turner, because they both will stay on the coaching staff. Turner will keep his old job as the running backs coach and Dennison will take a demotion to the offensive line coach, even though he will most likely being doing the same job he did last year. 
McDaniels will now work hard on hiring an new offensive coordinator. It is rumored that McDaniels is trying to hook in Mike McCoy, who is the Panthers Quarterbacks/Passing coordinator. 
Denver fans what are your thoughts? Is Mike McCoy fit for the job? Where will Jeremy Bates end up? Speak up!