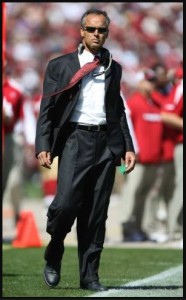 According to the Denver Post Josh McDaniels has named former San Fransisco 49ers Head Coach Mike Nolan as the defensive coordinator.  "Mike is a very good coach, he's a good communicator and he's been around this league for a long time, and he's been a head coach in this league," McDaniels said. "All those things are very valuable, and his experience on the defensive side is absolutely a value to any organization."
Dan Reeves extended his compliments as well. "He just did a phenomenal job for me there," Reeves said Monday of Nolan's first stint in Denver. "He's a great communicator. He's been around the game all his life. His dad was about as good a defensive coach as there's ever been in this business."
This suit wearin', defensive minded coach has had his fair share of successes and downfalls throughout the years. One of his unusual successes was changing the sideline wardrobe rule. Lindsay H Jones from the Denver Post wrote,
"Nolan's tenure in San Francisco will be remembered more for his wardrobe choices, though, than for producing standout defenses. Nolan wished to wear a suit on the sidelines, a violation of league rules that coaches wear only Reebok gear. Because of Nolan, the rule was changed."
Nolan started out his career here as the linebackers coach and then went on to be a defensive coordinator at many teams such as the Giants, Redskins, and Ravens before landing the head coaching job at San Fransisco. Nolan was fired seven games into the 2008 season. Below is a better summary thanks to the Denver Post… again.
 
Bronco Nation, what are your thoughts? Excited for Mike Nolan? Or angry yet again at Pat Bowlen and crew?