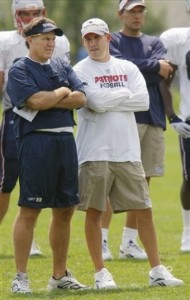 Leslie Frazier, Jason Garrett, Josh McDaniels, Raheem Morris and Steve Spagnuolo remain on the list of possible head coaches in Denver. Kind of — according to the Denver Post's Mike Klis. What has actually been reported is that Rick Dennison and Todd Bowles were long shots, not that they were out of the running completely.
It was reported that the Broncos were down to five coaching candidates –and later omitted–Â  originally by the Denver Post. Early on Saturday, ESPN's Chris Mortenson reported that a decision could be made this weekend and what he was hearing is that Frazier and McDaniels were the leading candidates for the job.
Which basically means the new head coach of the Denver Broncos will probably be Spagnuolo, Garrett or Morris. Given the amount of disinformation and speculation.
Not so fast though, Adam Schefter of the Denver Post NFL Network just reported that the Broncos met with McDaniels for five-hours on Thursday night in Massachusetts. He said that there will be a decision by early next week. Which would almost rule out Spagnuolo for the most part, given that the Broncos wouldn't be able to speak to him again unless the New York Giants lose to the Philadelphia Eagles on Sunday.
Update (thanks to East):

Stick here and let's see this thing through. What do you think Nation? Josh McDaniels? Hmm…