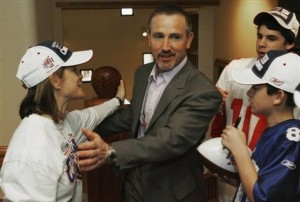 It's circled around the message boards, someone with a(n alleged) connection to the New York Giants defensive coordinator Steve Spagnuolo has posted what he could say about what took place in the interview.
This person lists his location as Boston, MA — if you've seen the youtube videos or read anything at all from a Spagnuolo biography, you may have detected the accent.
So here's what the man had to say (take it for what it is):
It is their (don't know if the we they're referring to is Spagnuolo or not) understanding that New England Patriots offensive coordinator Josh McDaniel had the most pull out of the candidates that were interviewed.
It was brought up to him, if McDaniels was hired, would Spagnuolo be interested in coming into Denver as the defensive coordinator/assistant head coach.
It was also brought up to him, the idea of Spanuolo as the head coach and McDaniel's as the offensive coordinator/assistant head coach.
The Broncos are prepared to offer McDaniels a significant raise and a promotion to assistant head coach.
The Broncos want to run the spread offense, similar to the Patriots with Jay Cutler, Brandon Marshall and Eddie Royal doing their best Tom Brady, Randy Moss and Wes Welker impression.
That offense is a conflict with Spagnuolo, he would prefer a run-first ball control offense to compliment a strong defense and special teams. He likes Cutler is a balanced, down the field attack [as opposed to the up the field attack, which would be just as beneficial].
He told the Broncos that he would like to talk to Giants quarterback coach Chris Palmer about running a similar system [to the Giants offense apparently].
The poster then editorialized that Denver wanted both Spagnuolo and McDaniel and were just trying to make the puzzle pieces fit.
I'm guessing a lot of people just got really geeky over the thought of a Spagnuolo/McDaniel combo in Denver. Of course the Broncos would like that ideally, but the reality of the two men being able to work together as one got the head job and the other an assistant job as a consolation prize isn't completely feasible to me.
What I'm really looking forward to is what you guys have to say, let's see what you've got in the comments.
(source)