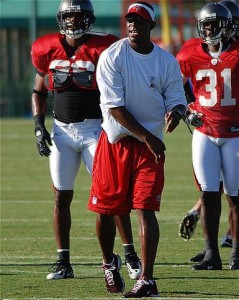 Haven't gotten around to recording anything for
The Denver Broncos Nation Podcast
yet, but I promise you, if you want an inside into what's going on with the
Denver Broncos
head coaching search — I promise you, I'm the source. Here's the deal, I told you yesterday that
Raheem Morris
may be the man, I can't go all out and call him the next head coach in Denver…
However, I'm not the Denver media and I will tell you like it is… Morris has coached with the phenom in Denver known as Jeremy Bates. You know that guy, he called the plays for the Broncos offense, yet, the front office has looked at the New England Patriots Josh McDaniels and the Dallas Cowboys Jason Garrett — for what? Broncos had the number two offense in the league last year.
So here's the report, if you don't want to believe me… At the Pewter Report, Morris is saying that the interview went, "Really well," he went on to mention Bates specifically stating that if he were to stay with Bates that it'd be,
"It would just be a bonus for me if something positive were to happen for me in Denver and I would end up working with Jeremy again. I don't know if that is going to happen, but I put on my best suit and my best self and went out there and gave it my best effort. I think it went really well. Obviously I have nothing else to compare it with. I've never interviewed with a head coaching job anywhere else, but I'm just going off of general knowledge and hearing from different people. I think it went pretty well."
So he hasn't had media training yet, but if he figured it out during the interview, he's got the job — he wants to keep Bates (they worked together in Tampa previously) as the offensive play caller and simply wants to draft a couple people/submit a few men on defense. He wants to make Dre Bly and Champ Bailey heroes and go after a young man in USC about a safety job… Okay, that's just in my head.
This is our man in Tampa, and don't be ashamed at all. If he happens to not be our head coach, don't blame me, I'm merely doing my best to bring the fine readers of BroncoTalk the greatest expectation…