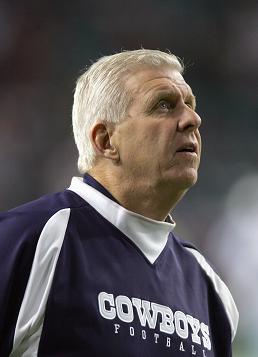 For those of you who are unaware the Miami Dolphins are in the middle of an ownership change from Wayne Huizenga to Stephen Ross. Huizenga and Ross have vastly different ideas regarding ownership. Rap Artist T.I. wrote a song that summarizes the relationship between Huizenga and Parcells titled "You Can Have Whatever You Like." Â Ross on the other hand, is the type of owner who is thought to bring an "NBA approach" as Miami Herald's Armanda Salguero puts it, and usurp control over the organization. Anyone who has ever seen a Parcells press conference knows that he is not a kind of guy who would mesh well with Ross.
 
The Lucrative Out
If Parcells feels as if he doesn't gel with the new organization he can exercise a contract clause that gives him 3 years of pay for the price of 1. Thats right… don't we all wish we had that clause in our work contracts?
 
Why Denver?
You might as well brand Parcells "Bill the Builder" because no one understands the fundamentals of building a team better. The Big Tuna wants to be exactly what his name infers, the head honcho, the man in full control. At Denver he could take on the General Manger position where he would have complete control over personnel and draft picks. As many sports writers, coaches, and analysts have put it, Denver is the dream job of the league right now.
 
Defensive Minded
The Big Tuna is known for a few defensive milestones such as the popularization of the 3-4 defense the coaching a of a certain Lawrence Taylor, and the drafting of the 20 sack monster DeMarcus Ware. The Broncos may switch to a 3-4 defense which would benefit potential bust Jarvis Moss, but thats all in the specifics. Parcells has the focus and power to iron out inconsistencies on both sides of the field, the Dolphins lead the league in least amount of turnovers allowed. 
Overblown Speculation?
Is all of this just here-say? How much of this is actually true? Well in my opinion Bill Parcells would almost be nuts not to take the out. Salguero quotes soon to be former Dolphins owner Huizenga saying "My gut tells me [Parcells will] stay." Meaning there is no word from Parcells yet. Salguero himself even believes there is reason to speculate Parcells departure:
Fact: Hours before Ross said he wants Parcells to stay with the Dolphins, he entertained former Kansas City Chiefs president and general manager Carl Peterson during the Miami playoff game against Baltimore.

So amid speculation Peterson could be joining the Dolphins once Ross takes over, and added to the possibility Parcells can leave if he wants once Ross takes over, Peterson was on the Dolphins sideline wearing, of all things, a Dolphins pin on his lapel.
I don't know about the rest of you, but that doesn't sound like the foundation of a steady relationship. Unlike the relationship between Ross and Peterson which Salguero reports:
Ross and Peterson go back a quarter century to a time Ross owned the USFL's Philadelphia Stars. Peterson was his general manager.
 
Remember this is Denver
The Denver Broncos are an organization of hush hush and behind the shadows scouting. Most Denver draft picks are never contacted until their names are called on draft day. Pat Bowlen is the same man who disguised himself to sneak into the hotel Mike Shanahan was residing in after his Super Bowl win with the 49'ers to offer him the head coaching position. So Remember… this is Denver.