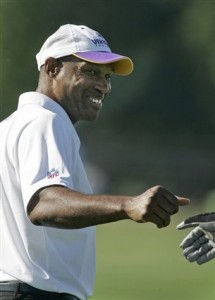 Fox Sports Jay Glazer just reported moments ago that the Denver Broncos would be interviewing Minnesota Vikings defensive coordinator Leslie Frazier for their head coaching position. Frazier was a Defensive Back for the Chicago Bears for five-seasons (1981-85), including their incredible Super Bowl season.
As a coach Frazier was the first ever Head Coach for Trinity College (now Trinity International University) in Illinois, for nine seasons. His first break as a coach in the NFL came under Andy Reid with the Eagles, as a defensive backs coach (1999-2002), this is also when he met Minnesota's head coach Brad Childress.
He joined the Vikings in 2007, hired as the defensive coordinator when Mike Tomlin accepted the Pittsburgh Steelers head coaching position.
It was reported that the Broncos would interview Frazier this week, however, should the Vikings beat the Eagles that would be impossible. So stay tuned for any updates. Glazer must have known something the rest of us didn't, Frazier's available to meet this week.
In other coaching news, the NFL Network's Adam Schefter is reporting that Tampa Bay Buccaneers defensive coordinator Raheem Morris' interview with the team has been pushed forward– from Wednesday to Monday. Keep it here and we will keep you up to date on everything we know.