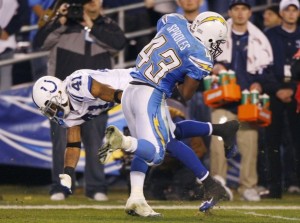 Here's the deal… As much as I cheered for the San Diego Chargers to lose Saturday night's game against the Indianapolis Colts– they happened to win. That's a win against the Colts- the team with the N.F.L. M.V.P. Peyton Manning, the team that was supposed to run the table with the A.F.C.… Sorry, that they didn't jump on the Pittsburgh Steelers when they had the chance, but Chargers will certainly give the Steelers trouble next weekend.
Anyway, the Chargers won! They beat the Colts, yes, those 8-8 Chargers… The ones that barely made it into the playoffs, past the Broncos. Those same Chargers that will waltz into Pittsburgh confused, until- wait the A.F.C. West does have some power. And can compete, and yeah, they will knock you in the jaw..
See that's the thing, the AFC divisions had things to say all season here and there about the AFC West. Then we go and dismantle their best team. A team who had won nine in a row, then our best representative will face the best that the A.F.C. has to offer. Seriously? If the top four were all teams from the AFC West, would anyone think that they had a chance? Of course they would, would they realistically have a blowout? Hell no. Would some of them stand a chance? Maybe.
I guarantee though, there's not a New York Giants team that wants to see a Kansas City Chiefs or an Oakland Raiders,  being as that they struggled so much against the Cincinnati Bengals. Just saying, don't make me bring up the Philadelphia Eagles, because things will get out of hand.
Enjoy the playoffs guys! I'm not sure which wins help the Broncos most, being that we're basically playing everybody next season anyway. Who does a Broncos fan cheer for?