Posted Thu Jan 1st by Monty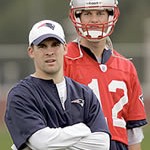 New England Patriots offensive coordinator Josh McDaniels is the fourth person reported to be receiving significant interest from the Denver Broncos to interview for the team's Head Coach opening, Bill Williamson of ESPN reports. The Broncos have asked New England for permission to interview McDaniels but have yet to receive a response. The Patriots are expected to grant permission soon.
Denver will interview New York Giants defensive coordinator Steve Spagnuolo and Tampa Bay Buccaneers defensive coordinator Raheem Morris on Saturday and Monday respectively. The team has also contacted University of Oklahoma coach Bob Stoops.
Another solid candidate. Pat Bowlen wasn't kidding when he said he wanted to find his next Head Coach as soon as possible. Thanks to Ryan in the comments!