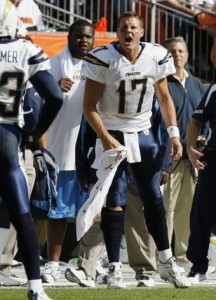 Whether it be the thrill of victory or the agony of defeat, all the world's a stage and we are merely players. The whole offseason, it was hard to forget Jay Cutler walking backwards towards the Broncos bench with three Chargers players bunched together and screaming at him. It was hard to forget until that, "incomplete pass," which San Diego fans love bring up- never mind the play after that or the two-point conversion (instead of going for the tie)…
No, see you don't want to admit that your team lost, there's usually a could have or would have. The thing is, Denver and San Diego finally get a chance to put up or shut up and it just happens to be back in at the sight of the original blood let.
"Jay Cutler, being the guy that he is, made some shrewd comments to SP [Shaun Phillips] and myself," Matt Wilhelm recalled of [last Christmas Eve's] in-game dialogue.  "Brandon Marshall was making comments throughout the game. All these comments are being made, and they're not making plays. Yet they're the ones going home, and we're preparing for our playoff game. It was essentially a wave to him good-bye and hopefully have a great offseason."
Take that, the article was cleverly titled "Cutler is a punk[?]". I thought Matt Wilhelm was a BMXer… Who knew he played special teams for the Chargers, a two sport athlete and quite the talent I assume. I know that there are two Wilhelms, just to go ahead and cut some of Southern California's finest from speaking in the comment section.
"And I don't really care for the guy, first of all," Champ Bailey said of Philip Rivers. "He's not a respectable guy right now because you talk too much trash and do this and that, but you're really not a great player in this league right now. You're surrounded by great players, but you're not a great player. I think he needs to understand where he stands in this league – where he stands on his team first and foremost."
Bailey had said last year, this year the NFL's fans, players and coaches backed up Baileys comments by not voting Rivers to the Pro Bowl.
For one team this game is going to be the most important game they get all season, for the team that wins the game, it will most likely just be the game that gets their team into the playoffs. In my humble opinion, there are a lot of teams that would rather face Denver in the playoffs than San Diego. So expect a lot of Colt, Patriot and Steeler cheers coming out of the woodwork in Denver and around the globe. If I'm the Broncos, I wouldn't want to disappoint them at all.