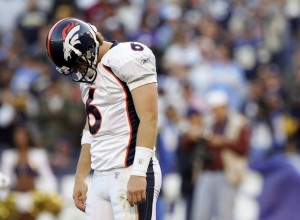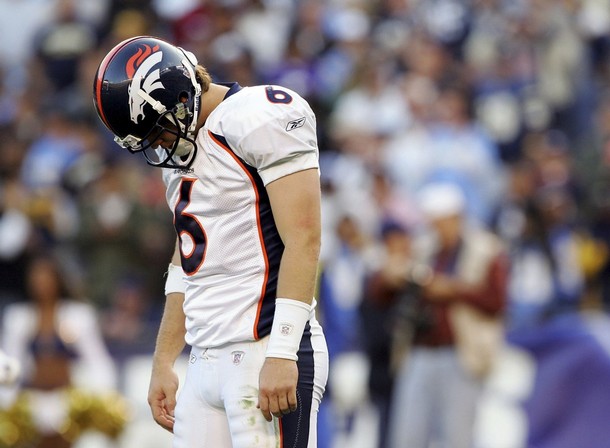 Week 17, I can't remember who asked me, but someone asked me- Who I thought had a better chance of making the playoffs this weekend: Tampa Bay or San Diego?
Tampa, I said.
Why Tampa? they asked.
Because San Diego has to play Denver.
Complain all you like, but just like Jay Cutler said- if you would have told the players on the Broncos in the beginning of the season that they would be playing in week seventeen for a chance to make the playoffs…. They would have been ecstatic.
So, Nation… Why so sad? serious?
We've got the national game, Sunday Night Football, a chance to rub December 24, 2007 in the Chargers faces, not once, but twice in the same season.
I said it back in September, there's something in the heir. Back then Denver had a horrible defense and no running game too. Not much has changed since week two and now except for the win/loss record. However, with a win and you're in game, the records could just as easily be 14-1/14-1 instead of 8-7/7-8.
Today isn't the same as any other day, for as William Shakespeare's Antonio said in "The Tempest" Act 2, Scene I,
What's Past is Prologue.
We cannot dictate the events of the past, no more that we can decide what the future will bring.
Match-ups and Keys after the bang.
Match-ups
Antonio Gates vs. Wesley Woodyard/Jamie Winborn – I put Woodyard before Winborn, because I feel like Woodyard's better in coverage and the rookie should get a chance. Minus Boss Bailey, who has historically shut-down Gates and Champ, who in previous seasons covered Gates; it's Woodyard's time to shine. If a linebacker can step-up and allow Denver's secondary to focus on the receivers/running backs coming out of San Diego's backfield, the Broncos will be well off.
LaDainian Tomlinson vs. Denver's Front Four – Tomlinson wasn't effective most of the season and though it didn't start with Denver (26-yards on ten carries)– it definitely wasn't encouraging for him to be so ineffective against one of the worst rush defenses the league has to offer.
Philip Rivers vs. Jay Cutler – Battle of the d-ck heads, right? Who cares what they act like off the field, imagine what it must be like hearing these two brats on the field. Think Dan Marino and John Elway were ever accused of being Divas? Actually, never mind. These two (Rivers & Cutler) are one crying Brett Favre career ending interview away from being teammates in the Pro Bowl and this will be the deciding effort in who gets to send the Hotel bar bill to whose room in February.
Quentin Jammer vs. Brandon Marshall – Remember Marshall's coming out party against the Chargers in week two? Antonio Cromartie and Jammer do too, Jammer had ten-tackles that game, more than a couple came off of Marshall's 18-receptions and the much hyped Cromartie never quite recovered this season. Marshall's two catches from 100-receptions this season and if he can even get half of what he got last time against the Chargers, the Broncos should be in good shape.
Denver Offense vs. San Diego's 3-4 – The way the Broncos handled the Chargers 3-4 defense in week two is part of the reason that the team felt that they might have success against the New England Patriots 3-4. San Diego has a new defensive coordinator, who could change a lot of things around, though the Broncos are saying publicly that they expect more of the same… Which means they know something new is coming.
Matt Prater vs. Himself – Aristotle once wrote about this epic. Let's see Prater (or Prayer as my fellow Podcaster AsianOrange likes to call him) knock-out as many as he puts up. The games aren't getting any easier and it's hard to say whether Prater is showing improvement or not- is he getting less opportunities or is he hitting more and the Broncos aren't getting within his range? I haven't seen any real sign that Denver is losing confidence in their young kicker.
Interceptions (catch more, throw as many as you'd like)
There's no real secret, when a team has a negative turnover ratio, they usually lose the game. Denver this Sunday will field a team that includes: Champ Bailey, Dre Bly, Josh Bell (nickel), Marlon McCree and Marquand Manuel/Josh Barrett. That's a whole lot of mf-ers that should be able to pick a ball out of the sky. In a typical nickel set, Denver should be able to hold off the incredible Antonio Gates and the stellar Chris Chambers for at least six to seven-seconds. What I'm really thinking here is corner/safety blitzes though. We saw a lot of it in training camp and haven't seen it much during the season. The times during the season that it has worked, it has been marvelous.
Champ Bailey
I had a feeling when I saw number 24 step onto the field against the Buffalo Bills, last Sunday, that all might be okay. Just an overall calmness with the defense, but when the offense and special teams gave that great of field position that many times in a ball game, neither Superman or Champ could have held the Bills. Bailey has three career interceptions against the Chargers (including one touchdown), his only interception this season also came against Rivers.
T-O-N-Y
You know if you take Tony Scheffler's first name and reverse it, it becomes y not as in- why not? Just because Daniel Graham has stepped it up in the pass catching department doesn't mean 'Mr. Why Not' had to lose some touches. The man is still one of the only tight ends in the league willing to catch the ball with his teeth and attempt a flying cartwheel into the end zone (as far as I know).
Nate Webster
"Got to hone it guy," as the great Horvil Tiki says. It was a running joke during the live blogs here, the missing helmet count… Apparently that meant that Webster was actually hitting people though, so I'd be all for seeing a helmet fly. Niko Koutouvides wasn't even active for the game against the Bills and Spencer Larsen is fun to watch, but Webster was the people's champ coming out of preseason. Time to snatch that crown back and give Tomlinson and Darren Sproles an assignment for the rest of the offseason- digging the remains of your helmet out of their chest plate.
How we lose
As fans have witnessed, the Broncos defense generally gives up one big run per game. That is not what kills the defense though. The defense is usually killed by a receiver getting hot and then not being able to stop said receiver. Against the Chargers, this receiver was Chris Chambers and the man covering him was Karl Paymah, Paymah's not likely the man to pull Chambers Sunday though. It'll be a combination of Bly and Bell. The good news for Denver is that Chambers is not Steve Smith and that Bell seems more capable in coverage than Paymah.
Let it get ugly
It seems like San Diego's kept it classy this week (he says sarcastically, with posts to follow), the lines have been drawn since last Sunday and it's time to push through and slam that flag into the dirt. By any means necessary, this is a great game for either team to stomp into the playoffs and a win can easily propel a team that shouldn't be in the playoffs to a team that forces teams to say, "Oh sh-t, they just made the playoffs."
This is a fun weekend and really what Denver football is all about. We've somehow managed to turn a three-game lead into a game where our team is the underdog. Should be fun and as I said earlier, I wouldn't have it any other way. I might lose a tiny bit of purpose in life though, should the Broncos not make the playoffs. That and Kyle's not very excited about starting a NuggetTalk.net…