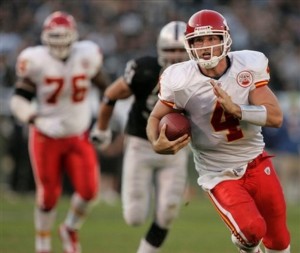 Week 14, I watched the bloodbath game against Buffalo- in which the Kansas City Chiefs lost to the Buffalo Bills 54-30, I also watched K.C. nearly beat the New York Jets and the New Orleans Saints. Does any of this look familiar? They're the Broncos, but with different breaks. They say that they're rebuilding, this is a rebuilding year- they damn near gave up Tony Gonzales to the Green Bay Packers and the New York Giants, prior to the trading deadline, but held onto him. Smart move (obviously), because next season these guys are going to be good. The team truly is one draft pick away and who knows what quarterback they may pickup in the off-season.
We have to run the ball more
It's a given, if Cutler puts up 40+ passes in a game, chances are we will win. Couple that with the fact that Denver needs to not turn the ball over. When we have a positive turnover ratio, we win, simple as that. The larger aspect to this thing is that, if Denver doesn't want to telegraph themselves into December and January as a pass 70% of the time team… They will need to establish a more impressive run game.
KC still has three of the most talented offensive players
I offered some advice to Kansas City earlier in the season… I let them know that winning for them is simple, hand it off to Larry Johnson, and spell that by tossing it to Gonzales. There's always Dewayne Bowe on a deep route as well. If any of these three get hot, it opens up room for another player to get hot and if two of the three are hot, well, then it's lights out.
KC is Denver, without the breaks
Kansas City is basically Denver, but without the coaching. No offense to the Kansas City staff, but I've used them to make a point all year. The Chiefs made no qualms about it, this season was a rebuilding year, out with the old players (like Casey Wiegmann) and draft some new. As Mike Shanahan stated in his press conference Thursday,
"When you take a look at Kansas City and their game against the Jets, the Jets had to drive down the length of the field and score with a minute left. When you take a look at (their game against) Tampa Bay, not only do they (Buccaneers) score with 19 seconds left, (but) they were able to convert on a two-point conversion to take the game into overtime. I think we all saw what they did in San Diego. They (Chiefs) went for two and could have tied it up and gone into to overtime and could have won the football game. So, that's the nature of the National Football League. Any given Sunday if you are not playing at your best you are going to get beat; it doesn't matter if it's home or away."
Denver has caught their fair share of breaks. Whether it be via will, strength of coaching, strength of will or luck- they win. Kansas City has simply lost those games, had one or two plays/calls gone their way, we'd be going head-to-head with them for first place in the AFC. Next season, I fully anticipate this to be the circumstance.
A true test for Denver's defense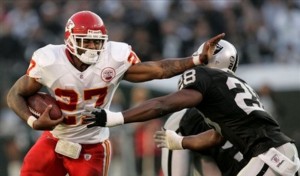 Let's be honest, Johnson is still one of the best running backs in the NFL. Whether or not we want to admit it, he's stomped more mud holes on our defense than we'd care to say. He deserves our respect, whether they're 12-1 or 2-10 coming into this game. D.J. Williams and Nate Webster must return with a fire and shut down Johnson… or else we're better off with Spencer Larsen and Wesley Woodyard.
Do you realize, you're a Champ(ion)?
Champ Bailey should also return and normally he'd man up on the Chiefs' deadliest receiver- tight end Tony Gonzales. Hate to see any major setbacks, but in reality, the team has Bowe and Gonzalez… Which one do we cover? Bailey will be back, but maybe not for the entire game, Dre Bly and Josh Bell need to continue at the level that they've been playing at. This is a statement game for the trio and hopefully it can carry one through December and January. Pass on Denver and pay the price.
Watch for the tricks…
If you've been scouting them as long as I have, you know they've got tricks up their sleeve. Though we're not likely to see a wide receiver throwing a pass in the second-half, in the first-half, they've got nothing to lose. I'm sure Denver is prepared, one must only reference the first quarter play against the Jets, where Brett Favre split-out to wide receiver and Denver's defense had a walk-off run back for six-points.
Someone's gotta step up
Selvin Young may be back (and he's only got like what, 1,800-yards to go on his 2,000-yard prediction) or maybe it'll still be Tatum Bell spelling Peyton Hillis. Fact is, if we're going to the playoffs, someone's got to take the rock besides Hillis. Hillis can't average seven-yards a carry and the back the spells him, average three-yards per carry. The spell back has to be within a yard of Hillis or we don't stand a chance. It's time for Young to prove that he is no Mike Bell (or Tatum for that matter) and let's see him get it.
Official Notice: Daniel Graham & Brandon Marshall
Stop dropping balls, your backups shouldn't have better stats. The simple reason that they do is because Tony Scheffler and Eddie Royal drop less passes. Is Marshall really going to be, 'The Beast' or is he just going to drop 60% of the passes that are thrown his way for the rest of the season? Same for Graham, you came her because you wanted to catch, so catch something… You're on official notice both of you.
Overall though Nation, what we're looking forward to is your comments. So let's have them, what do you think it will take Denver to beat Kansas City?