Posted Tue Dec 2nd by Monty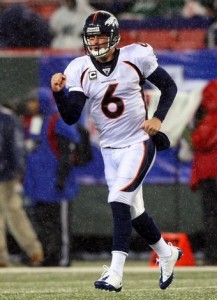 Jay Cutler battled wind, rain, and the first place Jets Sunday. (Getty Images)
Players or coaches from the Denver Broncos have been nominated for not one, not two, not three, but FOUR Weekly NFL Awards for games played in Week 13 of the 2008 NFL season. The Broncos defeated the Jets 34-17 on Sunday, boasting impressive performances all around.
FB Peyton Hillis has been nominated for two awards – the Diet Pepsi Rookie of the Week award, and the FedEx Ground Player of the Week award. Hillis ran for 129 yards and a touchdown on 22 attempts against a Jets team that had yet to allow a 100-yard rusher all season. Vote for Peyton for the Rookie Award here! Vote for Peyton for the Ground Award here!
QB Jay Cutler has been nominated for the FedEx Air Player of the Week Award.  Cutler threw through wind and rain to the tune of 357 yards and two touchdowns while completing 27 of 43 attempts. Cutler's 357 passing yards led the NFL for Week 13 and represented his sixth 300-yard passing game this year, setting a Broncos single-season record.  Vote for Jay here!
Coach Mike Shanahan has been nominated for the Motorola Coach of the Week. With the win, Shanahan tied Steve Owen for 16th in NFL history in career wins with his 153rd overall victory. The Broncos totaled 484 yards of offense, including 357 passing yards and two touchdowns from QB Jay Cutler and 129 rushing yards and one touchdown from rookie FB Peyton Hillis. Denver's defense limited Jets QB Brett Favre to a 60.9 passer rating and recorded one interception and two sacks.  Vote for coach here!
Let's bring home these Broncos something shiny for the holiday season!  A web NFL.com graphic!  Get those votes in!