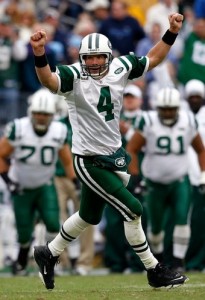 Week 13, I remember over the summer while Favre-Gate was in full swing, I was living in Tampa, praying that he would end up with the Tampa Bay Buccaneers. All signs pointed to the fact that he would, then he signed with the New York Jets– so I wouldn't get to see him play all season in person. I moved to New York weeks later coincidentally, after living here for about two-weeks I was asked if I was interested in being a judge for the Miss New York competition (my company is one of the sponsors). Of course I said yes, then I saw the dates- the Friday, Saturday and Sunday following Thanksgiving… Then the NFL moved the Denver/New York game back, right to the exact time of the competition.
It was too late to cancel and I will miss my first Broncos game since the late '90's. What does this all have to do with the scouting report? It means that I won't get to see if what I'm talking about actually happens until long after it's actually happened. That makes me a bit reserved for some reason, that's right- the man that predicted the Broncos would make the playoffs (and go 13-3 in the meantime, but hey, I picked them to lose to the Raiders once) is playing it a bit reserved. I will hit on every point that Denver will need to focus on in order to beat the Jets though.
Let me start with this, if you're in New York you would see that the press is already predicting a New York/New York Super Bowl. One paper has already drawn up position-by-position match-ups. With the win over the Tennessee Titans the New York (East Coast) Press has taken the Cinderella Jets, led by Brett Favre and anointed them King of the AFC- normally I take a shot at the Denver media, but today I'm going to hit closer to home…
Dear East Coast Media Bias,

Your golden children have lost to the: New England Patriots, Oakland Raiders and San Diego Chargers. Oh and they barely squeaked by the Cincinnati Bengals and Kansas City Chiefs.

Sincerely,
Reality
What makes New York a better team than Denver? Denver has beat two of the teams the Jets have lost to. The Jets are 1-2 against the AFC West, the Broncos are 0-2 against the AFC East. To me, really, the most striking difference in quality of wins is that Denver pulled the NFC South (Tampa, New Orleans, Atlanta and Carolina) and New York pulled the weak NFC West (Arizona, Seattle, St. Louis and San Francisco). Let me point out specifically Tampa, as that is the best defense either team combined has faced. Tampa is fourth as a team in defense, Tennessee is seventh.
Denver must score on their first-drive
I don't get it either, but you know on the first-drive Denver generally scores and when they don't they usually lose. No turnovers, a nice, time consuming drive for a touchdown. Sounds easy, and it is… At least in the Broncos first drive.
New York scores on their first-drive too
The Jets have scored 78-points in the first quarter, that's 45 more than their opponents and second best in the NFL. Favre is also perfect with TD passes inside the five-yard line this season. Denver's defense must find a way to let their defense get ahead early. Thomas Jones is leading a very poignant rushing attack and I don't see them passing until we stop the run.
Turnovers: Jets aren't perfect either (they're medium)
The Jets defense is in a four-way tie for 18th place in the NFL for interceptions, but in a three-way tie for 3rd in fumble recoveries. If Denver's Jay Cutler can manage not to throw an interception or at least keep it to a minimum, the Broncos will win. Actually, I might even settle for the receiving corps catching the balls that they should be catching. The Jets defense is 26th in the league against the pass, by the way.
Dre Bly's revenge
I bring it up on the NYT's Fifth Down Blog, but during last season's Denver vs. Green Bay game when Bly was beat by Greg Jennings for an 82-yard, Favre bomb to lose the game in overtime- that's the type of thing a player gets known for. It's not necessarily what a player wants to be known for. Bly may not ever get another opportunity to make good with the legendary memories, unless he attacks this Sunday.
Dewayne Robertson has something to prove
Not just to the Broncos, but he's got to show why the Jets made a mistake in letting him go. He hasn't been the saviour that Mike Shanahan had hope he would be for the defensive line, but he hasn't been the headache that say Sam Adams was last season. The fourth-round pick the Broncos gave up for Robertson, may have had something to do with the one that got Favre to the Jets in the first place.
Denver must own the first-half
Favre has never won a game in which his team has trailed by 14-points. As I stated above, the Jets have scored 78-points in the first quarter so far this season. Short of a meltdown, Denver will see time in the playoffs this season and if they can shut down a team like New York- they may stand a chance against the Steelers or the Titans.
Royal's due
Eddie Royal is the only kick returner, amongst the top five, who hasn't scored a touchdown in the last four-weeks (including Leon Washington (4th)). Royal is gold, if the Jets are to score, Royal can setup the Broncos marvelously by omitting the need for offense all together. He's due and has already tied the Broncos record for longest kick return in history (95-yards, now shared with Vaughn Hebron, who did it in 1998 against the Dolphins). Now, let's just hope that he ::knock on wood:: can play Sunday.
Thomas Jones is great, but…
In the last four-weeks, Jones is tied for second in scoring amongst NFL backs. Guess who is fourth? Rookie Peyton Hillis, who wasn't even starting four-weeks ago. Jet fans like to point out how well Jones is doing this season and he is, New York is the fourth best rushing team in the NFL, Denver is the fifth. New York has 1,443 yards on 321 carries averaging 4.5 yards per carry, Denver has 1,204 yards on 272 carries averaging 4.4 yards per carry.
The Jets secondary is kind of like Denver defensive line
Tyler Thigpen, Ryan Fitzpatrick, JaMarcus Russell and Matt Cassel have all had career games this season against the Jets. Kurt Warner damn near pulled off a comeback on a 35-point deficit a few months ago. What does that say for Denver's AFC leading passing offense? Well, let's just say either they stop the pass and we run or they stop the run and we pass, they won't be able to do both.
To fear or not to fear the 3-4?
We've seen Denver play against the 3-4 defense several times this season, most recently (New England) without great results (to say the least). Well, the Jets 3-4 is almost the same type of 3-4 as the Patriots run. They lack the talent up front, but are as good as anybody running the 3-4 as a whole. Force the ball up the middle? Just ram it down their throat? No, let's get around the edge, seriously, we've got it in the playbook and I expect to see it here against the Jets… Sweeps or reverses, whatever it may be, let's gete outside and go for eight or nine-yards every time.
Overall though Nation, what we're looking forward to is your comments. So let's have them, what do you think it will take Denver to beat New York?