Posted Wed Nov 26th by Monty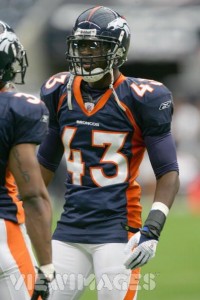 It's been a whirlwind month for safety Roderick Rogers. A practice squad team member for the Broncos through the first nine weeks of this season, Rogers was signed to the active roster on November 4th. A few weeks later, Rogers was making his first career start against the Oakland Raiders.
That one start was all Rogers got – the Denver Broncos announced that they released the second-year player on Tuesday.
Quite simply, Mike Shanahan said he was looking for someone to step up at the safety position, and gave Rogers that shot. Rogers didn't take advantage. "We are looking for a difference maker at the safety position. Someone who can run, support the run and also cover the pass. Those guys are hard to find, but we will keep on giving people opportunities until we find someone who steps up and takes advantage of it."
It's the cruel, cold business side of the NFL. Do I like it? Not one bit. Let's stop fumbling in the dark looking for answers and just stick to our guns – leave Marlon McCree (once healthy) or Calvin Lowry in there and leave them in there. Enough is enough. Maybe they'll, I don't know, IMPROVE, just a bit, as time goes on. Better than signing and releasing players left and right.
Press release, in all its three-sentence glory, after the jump.
ENGLEWOOD, Colo. — The Denver Broncos on Tuesday waived safety Roderick Rogers, Head Coach Mike Shanahan announced.
Rogers, a second-year player from the University of Wisconsin, saw time in Denver's last three games (1 start) and posted six tackles (4 solo) on defense along with two special-teams stops. He spent the first nine weeks of the season on the Broncos' practice squad before he was signed to their active roster on Nov. 4.