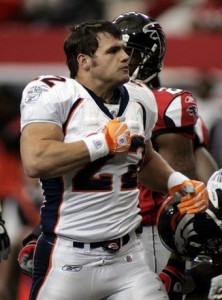 Peyton Hillis celebrates a touchdown against the Falcons. (Reuters photo)
As much as we all love our quarterback with a rocket arm and our giant wide receiver that leads the league in yards after the catch, the position that will make or break this team's season can be described in one word: Backup.
This week was a stellar examination of Denver's depth at the 'backup position'. It is also a revealing look at Mike Shanahan's ability to find and sign talent deep into our practice squad.
Let's take a look at a few backup playmakers from our game against Atlanta…
1. FB/RB Peyton Hillis.
Here is a rookie that was supposed to start behind Michael Pittman at Fullback. However, he's been asked to carry the rock in a more traditional tailback role and this week he put up 70 all purpose yards. He pushed piles, scored two touchdowns and caught passes like a wide out.
2. LB Jamie Winborn.
Winborn was a special teams player and professional backup until this season. With Boss Bailey often out with injury, Jamie has stepped up and played SO well that he was given the headset communicator for this game! To think that we would be handing an NFL journeyman this level of responsibility is unthinkable unless you have serious faith in your backups. Jamie proved his worth this weekend by posting a team best 8 solo tackles.
3. FB/LB Spencer Larsen.
What can I say… this rookie pulled iron-man duty on Sunday. And he rocked! He played FB in some sets on offense and then finished second behind fellow LB backup Winborn with 6 solo tackles for the defense.
4. LB Wesley Woodyard.
Rounding out our complete set of backup Linebackers was rookie Wesley Woodyard. We here at BroncoTalk are not surprised by his success yesterday afternoon as we've been big fans of his since he showed off his skills and drive this preseason. However, for a rookie to come in and play with THIS level of passion and success… well, it gives us new hope for our defense.
5. RB P.J. Pope.
This undrafted free agent spent time on the practice squads of Chicago and Green Bay before getting signed to Denver's practice squad at the beginning of September. Now, two months later he got his first NFL regular season action… and did pretty well. This practice squad player that got cut by two other clubs racked up 35 yards on 4 carries (including a nice 15 yarder).
6. CB Josh Bell.
Here's another rookie backup that's was sent out onto the field in place of Pro Bowl CB Champ Bailey. He did very good for a rookie (and a backup). He lead Denver's corners with 5 solo tackles.
7. TE/WR Nate Jackson.
Ok, Nate is no rookie. But he is usually the backup for #88. Yesterday Jackson filled in and made a couple nice catches for 32 yards.
8. RB Tatum Bell.
And last, (and probably least)… Tatum Bell. Out of football entirely and now he's out there gaining 34 yards. And most importantly — NO FUMBLES! :)
I'm not sure if we've seen this type of dramatic depletion by injury in two separate positions since 2001. At one point that year we had our third string QB throwing to our 5th string wideouts (we lost to KC in overtime on week 14).
This year it's our linebackers and running backs that have been devastated. And what will make the difference between the 8-8 season of 2001 and our current season will be our backups at those missing spots. If our backups can come in and play at (or above) the level of our starters then we have a chance to make it to the playoff and be 'something special.'
Let's all hope that those boys out there with the jersey numbers they don't sell in the gift shop continue to make the difference and keep our playoff dreams alive!
Go Backups!