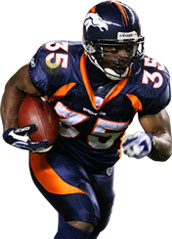 Denver Broncos at Atlanta Falcons – Injury Report – Week 11 Wednesday Practice
First, the good news: tight end Tony Scheffler practiced fully on Wednesday, making it very likely that he'll play against the Atlanta Falcons on Sunday. Scheffler returned for the first time this past Thursday after suffering a groin injury before the bye; he was noticeably hindered by his injury as the game went on, but that didn't stop him from catching four balls for 92 yards.
Now the bad: Champ Bailey said he was going to try to play this weekend, but that possibility took a turn for the worse after the Pro Bowler didn't participate in practice on Wednesday. It's still possibly Bailey will see the field, but he'll have to put in more practice in the next two days to make it happen.
Meanwhile, RB Selvin Young missed practice Wednesday. Both he and Scheffler fought through their injuries to play against the Browns, but Young looked far less ready. I'd be surprised to see him suit up Sunday.
Meanwhile, our friend Jason Elam sat out of practice as well with a hip. Not sure what that's about, but something tells me he'll be just fine.
We're the most injured team in the league, but we're not letting that stop us. Missing Champ and Selvin hurts, but the Broncos can still get it done. Injury report from both teams after the jump.