Posted Tue Nov 11th by Monty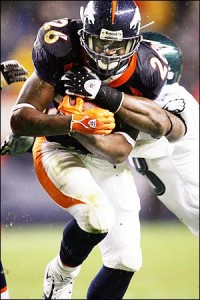 The Denver Broncos are desperate for a running back. So desperate, in fact, that they have signed everyone's favorite klepto, former Bronco Tatum Bell on Tuesday.
Bell, accused of stealing Rudi Johnson's bags shortly before his release from the Detroit Lions, hasn't been able to find work in the NFL and was most recently seen selling cell phones in a Denver-area mall. No, we're not kidding.
It's the second running back signing the Broncos have made this week. The club added Alex Haynes on Monday.
Bell spent 2004-2006 with the Broncos before being traded to the Lions.
If I'm a Broncos player, I'm holding onto my luggage a whole lot tighter on a long plane trip to Atlanta this weekend. Am I excited for the possibility, strictly on the field? Sure – Bell tallied nearly 2,000 total rushing yards in 2005 and 2006. I just hope Bell makes the best of what is almost certainly his one last chance in the NFL.