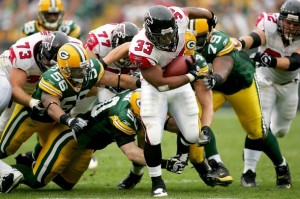 Week 12 Denver heads to Atlanta for their first NFC away game this season. It's no secret that the Falcons handed the Saints a notch in the L column last week. However, how did that happen? Drew Brees finished second to only Jay Cutler in passing yards Sunday with 422, but gave up three interceptions- including one on his first pass of the game and one at the end of the game which was returned by rookie Falcon Chevis Jackson 95-yards for a touchdown. That interception ultimately lost the game for the Saints.
I've heard the whispers about the Falcons looking past the Broncos, but really, you think so? A team in Denver that's owned their division, stomping on both Tampa Bay and New Orleans- they notice us. Jason Elam and Domonique Foxworth would love nothing more than to say, "Tell Shanahan I said, 'Wassup?'"
Speaking to a dear friend of mine, and one of the few people that I can actually talk to about the Broncos, I brought up the fact that last time I remember Mike Shanahan ditching a promising cornerback it was Deltha O'Neal- when he played Denver he picked off Jake Plummer and basically beasted the entire game- ending a come-back on Monday Night Football. Foxworth's playing against his home team (he grew up in Denver), and I'm sure he'd love to beat the team that let him slip away.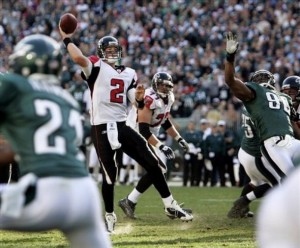 Foxworth spent a lot of time pairing up against Brandon Marshall, Eddie Royal and Brandon Stokley this summer. He knows Cutler's weaknesses too, you think he hasn't shared the fact that our young quarterback isn't sure what a pump-fake is or that he often stares down a receiver to the point of absurdity. Actually anybody with a rewind button could figure that out, but he likely will spread word on why Cutler tends to audible and how based on his eye movement when he's planning on handing-off? Of course he has.
There will be blood. You bet your sweet ass Atlanta's going to come out swinging. Denver will come out swinging harder, we lose this game and we've lost a lot more than just our hopes for playoff positioning.
Atlanta's plan coming into the game will be ball control–
I wasn't at Shanahan's press conference yesterday, but if I was, I would have asked him why Denver didn't pursue Michael Turner in free agency this past off-season. I'm willing to bet, if he'd answer honestly, that in his reply there will be the answer to how Denver will focus on stopping him. San Diego let him go for a reason and I don't think that money was the main factor, Darren Sproles replaced him easily and Sproles ripped Denver but good in Week Two.
Yes, most people are going to tell you shut down Turner and you'll win. That's not the case at all, let Turner run for four-hundred yards for all I care, just keep him out of the end-zone. That's really the key, focus on shutting down Matt Ryan, Mike Jenkins and Roddy White. Let Turner and Jerious Norwood have a field day on our defense, just keepe them from scoring.
Let Dre Bly play bump and run-
It's the man in his element, fans scream for Bly to be traded/demoted/castrated- but as I said Monday, the man shines brightest without Champ Bailey. That's because when Champ's not on the field, Denver allows him to behave as if he is Champ. Put him out on an island, not 15-yards off his man, let him jam his man at the line of scrimmage, let him help that receiver up after he knocks him down.
Look for nine men in the box-
Don't know if you caught it last week watching any other games, but it's trending right now in the NFL. Screw eight, let's get nine men in the box. With Bailey back in the lineup and allowing Bly to man-up on his wide receiver we can put a man like Wesley Woodyard over a tight end and take our chances.
What this will do, is limit Ryan- he's 149 of 250 and averaging just 7.9 yards per pass. Guess what nine men in a box will do? It'll clog that eight-yard range that Ryan can throw in. Another thing that that 7.9 average says is that the pass calls have been very conservative and that the Falcons' coaches are opting for safe, confidence building passes for the young quarterback. Press Bailey and Bly spread nine men through the middle and we can increase the total times Ryan's been put on his butt this season (12). We've just seen Brady Quinn last week, same theory here, younger quarterback with worse receivers.
Atlanta's defense is liberal-
At least at giving up yardage, they're ranked 22nd in passing yards and 21st in rushing yards. However, they're 9th in points allowed. If Cutler can keep gun slinging with laser precision Denver will run away with this game, defense or no defense. Allow Peyton Hillis to spell Cutler's passes and we've got a ball game. Denver is second in the NFL for total offense by the way and yes, great defense wins championships, but a great offense will definitely get you to the playoffs.
Four receiver, one running back-
Q- Pop quiz fantasy football hotshot, you've got Brandon Marshall, Eddie Royal, Tony Scheffler, Brandon Stokley and Hillis lining up as Cutler takes the shotgun formation. What do you do?
A- Hold the hell on, this is going to be interesting.
Now as an added bonus, what would you do if Darrell Jackson or Chad Jackson were to march onto the field instead of Hillis? Maybe you'd just crap your pants. I'm not sure…
What about you nation? What did we miss? Look forward to hearing from everyone in the comments!