Posted Mon Nov 10th by Monty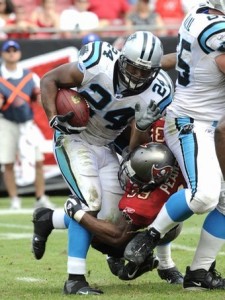 Alex Haynes runs as a Panther in December 2007. (Getty Images)
The Denver Broncos, decimated by injuries at the running back position, have signed RB Alex Haynes, Head Coach Mike Shanahan announced on Monday. Per club policy, terms of the deal were not disclosed.
Confirming rumors last week, the squad also placed rookie running back Ryan Torain on Injured Reserve, making room for Haynes on the roster.
Haynes (5-10, 230 lbs.) joins the Broncos in his fourth year in the NFL. He was an undrafted free agent out of the University of Central Florida (Brandon Marshall's school) who originally joined the Baltimore Ravens in 2005. The Carolina Panthers had him on their active roster from 2005-2007, and Haynes returned to the Ravens this offseason before being released just before the start of the season.
Haynes saw time in a career-high 10 games last season, rushing for three yards on three carries and catching three passes for 14 yards.
Little experience, but it's not like the market is teeming with talent at this point in the season. Hopefully the combination of P.J. Pope, Haynes and Peyton Hillis can get the job done. Frankly, I have the most confidence in the fullback.
Thanks to T-Money for the tip. Broncos press release after the jump.
BRONCOS SIGN FREE-AGENT RB ALEX HAYNES;
PLACE RB RYAN TORAIN ON INJURED RESERVE
ENGLEWOOD, Colo. — The Denver Broncos on Monday signed free-agent running back Alex Haynes, Head Coach Mike Shanahan announced.
The club also on Monday placed rookie running back Ryan Torain on its reserve/injured list with a left knee injury suffered in Denver's win at Cleveland on Thursday.
Haynes (5-foot-10, 230 pounds) is a second-year player who joins Denver from Baltimore, which waived him on Aug. 30. Haynes, who entered the NFL with the Ravens in 2005 as a college free agent from the University of Central Florida, has seen time on the rosters of Baltimore (2005, '08) and Carolina (2005-07) during his NFL career.
He appeared in all nine career games played with the Panthers last season, rushing three times for three yards while catching three passes for 14 yards and posting three tackles on special teams.
Haynes spent the 2006 season on Carolina's practice squad after competing in NFL Europe, where he rushed 37 times for 238 yards (6.4 avg.) with three touchdowns for Cologne. As a rookie in 2005, the running back saw time on the practice squads of the Ravens and Panthers.
Haynes finished his collegiate career at Central Florida as its all-time leading rusher, posting 3,356 yards on 742 carries (4.5 avg.). His 27 career rushing scores ranked second in UCF history.
Born Feb. 13, 1982, Haynes attended Maynard Evans High School in Orlando, Fla.
Haynes will wear No. 38 for the Broncos.