I must apologize for my long term absence, I've made the move from the south, back to New York City and had a hell of a time getting into my apartment which was being built. Onto the words…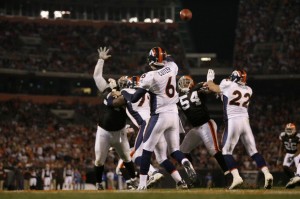 My address has changed, now if you wrote me a letter, you'd be writing Wall Street on the line below my name. This means a lot of things, most good, some bad (my building doesn't allow Direct-TV, says the dish is ugly), but I did find a lovely bar in the financial district named Beckett's. Beckett as in Samuel Beckett, I was hoping that the irony of me watching a Bronco game at a bar named after Samuel Beckett ended there…
It didn't, for some reason there are a whole lot of Cleveland Browns' fans in downtown New York for some reason. Matter of fact basically everyone who was there to watch football was there to cheer for the Browns. No big deal, I've been a Denver fan my whole life and even though I grew up in Wyoming, there seemed to be a whole lot of Cowboys, Raiders and 49ers fans constantly poking and punching throughout the late 80′s and early 90′s. I didn't really meet any Denver Broncos fans until after they'd won the super bowl, come to think of it.
So, in the bar, I'm polite, I'm quiet, I'm trying to keep the girlfriend awake at halftime. Broncos were down to having no running backs, not a single linebacker from the starting lineup, Brady Quinn was having a wonderful first game ever. After what was most definitely one of the first penalties to actually end up being in the Broncos favor in at least three weeks- a 15-yard catch by Braylon Edwards was negated and a Cleveland drive was stalled.
Down 13, as Cleveland's punt team took the field, the wonderful director at NFL Network took a very low angle shot of the back of Jay Cutler, as he stared off onto the field. It couldn't have been written more perfectly, the young heir to Denver's King John Elway about to unleash an awful flashback on the city of Cleveland. This was epic- a sign of things to come.
Ignoring my own inner Beckett, at that moment I told my girlfriend the story of "The Drive," which was perfect at the time because of the miserable field position. Immediately at 13:43 in the fourth-quarter- Cutler connected to Eddie Royal on a beautiful 93-yard touchdown. An excitement washed over me, I haven't had this feeling since Mike Shanahan went for two against San Diego in week-two. I came to consciously, finding myself back inside my body- screaming, standing and beating down on the table.
"You're going to get us killed, we have to walk out of here later," my girlfriend said out of the corner of her mouth.
"We're going to win, screw them!" I may have forgotten to mention that I took to drinking Blue Moon when the Broncos play that day. It's called Blue Moon, but it's orange and you garnish it with an orange- I've got a thing for metaphors, if you hadn't noticed.
Of course we all know the outcome by now, I had heard the Fox-31 report stating that Brandon Marshall had a, "Special celebration planned," and I am grateful that Brandon Stokley was able to curb the plan. Ultimately, Marshall was attempting to make a political statement, that being, that there is hope. A wonderful statement, he was making a statement regarding the entire country, but one can also point at the more important point. There's hope for Denver as well.
Yes, the Broncos are hurt, they're battered and bruised, but above all things- these young guns have fight in them. No Champ Bailey, no D.J. Williams, Boss Bailey or Nate Webster, no running backs at all, but Denver has Cutler, Marshall, Tony Scheffler, the Ryan's Clady/Harris and Royal, Elvis Dumervil, and Peyton Hillis. We even got to witness Dre Bly (once again) at full strength, the guy shines brightest, without Champ (remember last year against the Pittsburgh Steelers?). Even Wesley Woodyard went all Horvil Tiki and had ten tackles last Thursday.
"Go on failing. Go on. Only next time, try to fail better." from Samuel Beckett's Waiting for Godot.
As we eye next week at the Atlanta Falcons, we look at a team that is a distorted reflection of Denver. The could-have-beens and the has beens, it's a given that Michael Turner will have a 60+ yard run. However, what's scary are the two over-achieving wide receivers and the rookie quarterback that Atlanta employs. The more and more I think about it, Shanahan's theory going into the season may have been to simply outscore opponents- screw defense. I have a rule in NFL games since 2005 though, AFC wins and it's been tried and tested. Yes, the AFC may lose occasionally, but not without a huge scare- use last season's Green Bay/Denver game or this seasons Cinncinnati/Dallas game for example.
No one expected Cleveland to be a bad team in the beginning of the season, no one predicted Atlanta to be a good team in the beginning of the season- certainly no one predicted Denver to be number one in the AFC West going into Week 11. All we've got to do now is strap in and enjoy the ride, there are several more games that the Broncos should go onto win over the rest of the season and short of a melt-down, we will see Denver in the playoffs. Sans running backs. Keep in mind that San Diego faces Pittsburgh next week as well, so win or lose- Denver may still be in first place going into Week 12.
I'll be back in Beckett's with my Blue Moon this weekend, hoping to get to see the Broncos, 'Fail better…'